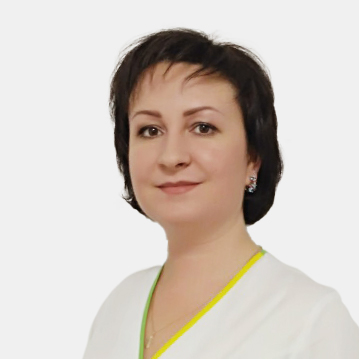 Korolevskaya Ekaterina Alexandrovna
Endoscopist
Work experience:

18 years

Medical category:

Врач первой категории

Reception at:

ул. Лобачевского, дом 42, стр.4
Make an appointment
Main information
Directions
Reviews
Education:
She graduated from the Yaroslavl State Medical Academy in 2003 with a degree in General Medicine.
She underwent clinical residency in 2003-2005 at the Department of Surgery of the FPK and PPSZ YAGMA, majoring in surgery.
She received a primary specialization in the specialty of endoscopy at the Department of FPK and PPSZ YAGMA in 2005.
In 2014, 1 qualification category in the specialty endoscopy was awarded.
He has 11 years of experience in the department of "Operational and Diagnostic Endoscopy" in the Yaroslavl Regional Clinical Oncological Hospital.
Further education courses in Russia and abroad:
In 2008, a thematic improvement course in endosonography was conducted at the Regional Diagnostic Center in Irkutsk.
She underwent advanced training at the workplace in 2008 at the University Clinic of Niigata, Japan.
She underwent further training in 2010 on the basis of the Federal State Institution "Moscow Cancer Research Institute named after P.A. Herzen. Improvement cycle "Diagnosis and treatment of malignant neoplasms"
In 2012, she completed a course of improvement in bronchoscopy in the clinic of respiratory and allergic diseases Golnik, Slovenia.
Professional skills:
esophagogastroduodenoscopy;
colonoscopy;
bronchoscopy;
emergency endoscopy (stopping bleeding, removal of foreign bodies, etc.);
removal of the gastrointestinal tract by methods of loop electroexcision and endoscopic mucosal resection;
endosonography;
magnifying endoscopy, chromoscopy and more.
Area of professional interests:
Diagnosis and surgical treatment of benign and early forms of malignant tumors of the upper and lower parts of the gastrointestinal tract;
Diagnosis, observation and treatment of reflux disease, Barrett's esophagus;
Diagnosis of submucosal formations of the upper and lower parts of the gastrointestinal tract.
Professional Achievements:
Annually participated in the organization of international and interregional conferences and training workshops.
Co-author of abstracts and articles in domestic and foreign print media.
Ekaterina Aleksandrovna is an excellent specialist, competen
t and attentive. Before the endoscopy, I clarified whether I have any questions, answered everything in as much detail as possible, after the procedure I also gave detailed comments and recommendations.
deploy...
Tatyana / 26.02.2020