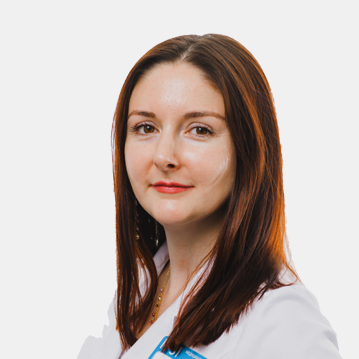 Khoroshko Ekaterina Evgenievna
Ultrasound Diagnostic Doctor
Work experience:

19 years

Medical category:

Врач высшей категории

Reception at:

ул. Лобачевского, дом 42, стр.4
Make an appointment
Main information
Directions
Reviews
Education:
2002 - Kemerovo State Medical Academy, specialty - medical business.
2003 - Kemerovo State Medical Academy, internship, specialty - therapy.
2003 - training in ultrasound diagnostics "at the workplace" on the basis of the department of ultrasonic and radioisotope research methods of the Kemerovo Regional Clinical Hospital.
2004 - Russian Medical Academy of Postgraduate Education, Moscow. Primary specialization. Specialty - Ultrasound Diagnostics
2009 - Kemerovo State Medical Academy. Further training in the specialty of ultrasound diagnostics.
2007 - Courses of RosslynMedical company "Voluson 730: clinical aspects of the use of 3D-4D ultrasound imaging".
Scientific activity:

Writing articles, presentations at congresses, symposia.
Area of professional interests:

He has experience in performing ultrasound examinations for adults and children of all age groups, both on an outpatient basis, and in a surgical emergency hospital and intensive care unit (RAO).
Conducts ultrasound of the pelvic organs (t / abdominally + t / vaginally) and diagnostics of early pregnancy;
Ultrasound for infertility;
Ultrasound of the uterus and fetus of I, II and III trimesters + CDC of uterine-placental blood flow;
Ultrasound of the abdominal cavity;
Ultrasound of the kidneys, bladder and retroperitoneal space;
Ultrasound of the prostate gland (t / abdominally + t / rectally);
Ultrasound of the scrotum; Ultrasound of the mammary glands;
Ultrasound of the thyroid gland;
Ultrasound of the lymph nodes of all groups and soft tissues;
Ultrasound of the chest cavity (pleural cavity).
Professional achievements and recognition:
Since 2004, a member of the Russian Association of Ultrasound Diagnostics Specialists in Medicine. The author of 5 publications on current issues of ultrasound diagnostics. Member of Russian and international conferences and symposia on ultrasound diagnostics and surgery: Member of the 5th congress of ultrasound diagnostics specialists of the Siberian Federal District in 2008 (presentation). Participant of the 18th Russian symposium with international participation "Modern aspects of surgical endocrinology" 2009 (presentation)