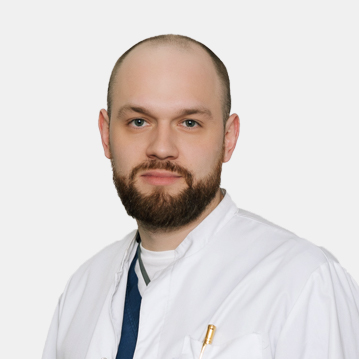 Kazakov Sergei Dmitrievich
Urologist
Work experience:

7 years

Reception at:

ул. Лобачевского, дом 42, стр.4
Make an appointment
Main information
Directions
Reviews
Education:

2007-2013 - Samara State Medical University
Member of the international student exchange, practice at university clinics in Dusseldorf, Cologne (Germany)
2013-2015 - Residency in urology on the basis of the FMBC named after A.I. Burnazyan.
2014 - Speech at the master classes on laparoscopic training in urology at the Moscow representative office of KarlStorz.
Area of professional interests:

During the specialization he mastered all the basic diagnostic and treatment procedures in the upper and lower urinary tracts. I render the whole range of outpatient care to urological patients.
Experience in the diagnosis and treatment of cancer in urology. Over 120 transrectal prostate biopsies were performed under ultrasound guidance in patients at risk for prostate cancer. The successful use of minimally invasive methods of treating prostate adenoma (transurethral resection of the prostate) of urolithiasis (endoscopic ureterolithotripsy, endoscopic ureterolithoextraction, percutaneous nephrolithotripsy) of bladder cancer (transurethral resection of the bladder) has been focused on laroscopy during surgical studies.
Professional achievements and recognition:

Currently, work is underway to study the long-term results of the treatment of prostate cancer in patients who underwent endovideoscopic estraperitoneal radical prostatectomy. , kidney cancer in patients who underwent laparoscopic resection of a kidney tumor.
Pluta Elena
27.01.2017
I advised this doctor to a friend and she looked at the reviews about him. She said that they are not. I didn't believe it. Amazed. The doctor is very knowledgeable and very attentive and humane. He treated and operated on my dad. Dad is 80 years old. He was afraid of doctors like fire, but it was this doctor who actually changed his attitude towards doctors and hospitals. Thank you very much! But I wonder why people don't write reviews, although I write myself, a year later, in fact :(