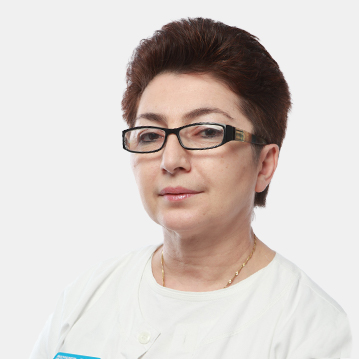 Kappusheva Laura Magomedovna
Deputy chief doctor in gynecology, obstetrician-gynecologist
Work experience:

38 years

Academic degree:

Doctor of Sciences, PhD, professor

Medical category:

Врач высшей категории

Reception at:

ул. Лобачевского, дом 42, стр.4
Make an appointment
Main information
Directions
Reviews
Education:
I MMI named after I.M. Sechenov in 1983, 1 medical faculty with a degree in "Medicine"
Clinical residency in Obstetrics and Gynecology 1983-1985 2 MOLGMI them. N.I. Pirogov
Numerous certification courses, advanced training, thematic improvement, master classes including those abroad. Topics: "Endoscopy in gynecology", "Endometriosis", "Pelvic surgery", "Mesh technologies in pelvic floor surgery", "Laparoscopy in oncogynecology", etc.
Area of professional interests:

In 2002, as part of the authors, the Prize of the Government of the Russian Federation "For the development and implementation of endoscopic methods in gynecology" was awarded.
Scientific activity:

Professor, Department of Obstetrics and Gynecology, Pediatric Faculty, Russian Scientific Research Medical University
Professional achievements and recognition:

Author of over 100 scientific publications, co-author
Member of the Russian Association of Obstetricians and Gynecologists, the Russian Association for Endometriosis, the European Society of Obstetricians and Gynecologists, the European Association of Endoscopists - Gynecologists.
Evgeniya
23.03.2015
I thank Laura Magomedovna for her attentiveness and sensitivity. Thank you for the successful operation in July 2014. On December 30, I found out that I was expecting a baby!
Elena
05.02.2015
I would like to write words of sincere and ardent gratitude to the wonderful Doctor (yes, just like that, with a capital letter) Kapusheva Laura Magomedovna. Two years ago she underwent surgery for an ectopic pregnancy. And a year later I got pregnant and now I have a baby. Thanks to Laura Magomedovna for the highest professionalism and sensitive attitude.
Love
26.05.2014
From the bottom of my heart, from the bottom of my heart, from all my big family, I would like to express my deepest respect to the MAN with the CAPITAL LETTER, PROFESSOR KAPPUSHEVA LAURA MAGOMEDOVNA !! I bow before you, as a specialist for whom the Almighty illuminates the path! My hospitalization and surgery to remove polyps were so painless, professional and with HUGE SUPPORT OF PROFESSOR LAURA MAGOMEDOVNA !!! Low bow to you.
Olga
23.05.2014
Many human thanks and deep bow to a specialist from God and just a very good person Laura Magomedovna! Thanks to her golden hands, I was able to maintain the ability to be a mother. Each time I remember with gratitude the moment when I was told that there are good sorceresses and one of them is Professor Kapusheva. Long life and professional success!
Mira Mirzaeva
20.05.2014
Many thanks and deep bow to the doctor from God Laura Magomedovna !!!! Thank you very much for such a qualified and competent approach to your profession. Your clinic is the best.
Oksana
17.05.2014
Huge THANKS to Laura Magomedovna Kappusheva and Zarema Almanovna Ibragimova for the successful operation. Thanks to these people, six months after the operation, I learned that I would soon become a mother.
Olga
14.05.2014
I thank the wonderful wonderful Laura Magomedovna for my happiness! For so long I could not decide on an operation, I was looking for my doctor, and now a meeting with this professional, kind, wise woman dispelled my doubts. The operation took place 10 days ago, and I already feel perfectly fine, full of new happy plans. I and all my relatives, amazed by such a quick result, convey our heartfelt gratitude and wishes of health, joy and well-being to Laura Magomedovna and the entire "female" department of the medical center !!!!