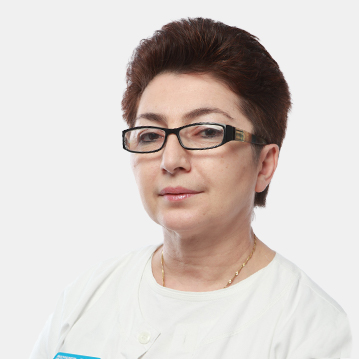 Kappusheva Laura Magomedovna
Deputy chief doctor in gynecology, obstetrician-gynecologist
Work experience:

38 years

Academic degree:

Doctor of Sciences, PhD, professor

Medical category:

Врач высшей категории

Reception at:

ул. Лобачевского, дом 42, стр.4
Make an appointment
Main information
Directions
Reviews
Education:
I MMI named after I.M. Sechenov in 1983, 1 medical faculty with a degree in "Medicine"
Clinical residency in Obstetrics and Gynecology 1983-1985 2 MOLGMI them. N.I. Pirogov
Numerous certification courses, advanced training, thematic improvement, master classes including those abroad. Topics: "Endoscopy in gynecology", "Endometriosis", "Pelvic surgery", "Mesh technologies in pelvic floor surgery", "Laparoscopy in oncogynecology", etc.
Area of professional interests:

In 2002, as part of the authors, the Prize of the Government of the Russian Federation "For the development and implementation of endoscopic methods in gynecology" was awarded.
Scientific activity:

Professor, Department of Obstetrics and Gynecology, Pediatric Faculty, Russian Scientific Research Medical University
Professional achievements and recognition:

Author of over 100 scientific publications, co-author
Member of the Russian Association of Obstetricians and Gynecologists, the Russian Association for Endometriosis, the European Society of Obstetricians and Gynecologists, the European Association of Endoscopists - Gynecologists.
Nadira
08.03.2016
I am very grateful to the doctor, Professor Kappusheva Laura Magomedovna !!! I am glad that I got to her for the operation, which was successful and without complications. This is a great doctor, I would say - the best doctor in the world! Thank you for her sensitive attitude towards patients, for her professionalism, for her kindness !!!
Jamila
18.02.2016
I will always be grateful to dear and respected Laura Magomedovna !! You are our Sorceress who gave us the chance to become parents for the second time after many years of trying! In June 2011, you operated on me and gave me faith in a miracle! And after 2 months I became pregnant .. Now our daughter Laurochka is growing up, who knows you and is proud to be named in your honor !! Thank you for your miraculous hands, kind heart and the power of words !!!
Katerina
30.12.2015
I got to a wonderful specialist on the recommendation of my gynecologist !!!!!! So it was scary for me to have an operation (laparoscopy of a paravarial cyst) never in 26 years has there been a single operation, I want to say thank you very much for your professionalism, approach and understanding !!!!! You are a doctor from God, happiness to get into such hands, today is the second day after the operation, I feel great, after the operation I got up in 2 hours !!!!! If you get such problems, then only to Laura Magomedovna! !!!!!
Olga
19.10.2015
Many thanks to Laura Magomedovna and all the doctors of the clinic for the operation. Everything is very clear, understandable and calm. The hospital is excellent, the doctors are excellent, the medical staff is responsible, sensitive and responsive. We wish the hospital prosperity and all the best to the clinic staff.
Evgeniya
19.10.2015
I want to express my deep gratitude to the surgeons Kappusheva Laura Magomedovna and Ochirova Svetlana Ochirovna, as well as the anesthesiologist Pliev A.S. for the operation performed, attentiveness and incredible patience in working with us, patients! And also to thank all the medical staff of the intensive care unit, surgical unit, hospital and hospitalization department staff for their professionalism and human qualities! Good health to you all, patience and courage in such a good cause, which you are doing!
Fatima
24.08.2015
Thank you very much to the operating surgeon Laura Magometovna Kappusheva, doctor Ochirova Svetlana Ochirovna and anesthesiologist Pliev Alexander Sergeevich, but what about the entire medical staff for the excellently performed laparoscopic operation for ovarian cysts, and excellent care in the postoperative period!
Tatyana
24.07.2015
I would like to express my gratitude to Laura Magomedovna Kappusheva and the entire staff of the K + 31 clinic, 2 weeks ago I did a hysteroscopy operation (removal of myomas) and laparoscopy (ovarian cauterization). Everything is at the highest level, quickly, efficiently, and with such a team it is not at all scary! The nurses are attentive, the ward and the food are excellent, and most importantly, the professionalism of the people who work there. I went to Laura Magomedovna, and she did everything perfectly! (There was no doubt about that) A girl was lying next to me in the ward, and before that there was her friend, we all operated on with Laura Magomedovna, and everyone was happy, this is a wonderful, experienced doctor, go to her, do not be afraid of anything , just trust! Now I am waiting for healing and will continue to fight for the long-awaited baby. So I recommend this wonderful doctor and K + 31 clinic to everyone!
Julia
22.05.2015
Many thanks to doctors Laura Magomedovna Kappusheva and Zarema Almanovna Ibragimova for their care and wonderful work and professionalism rendered to me in November 2014. I thank God that I got to such specialists ... Special thanks to the entire group of the operating unit and hospital K31. Laura Magomedovna performed an operation to remove a huge fibroid, a very inconveniently located node inside the uterus, and saved the uterus to the surprise of many gynecologists whom I had previously seen ... Even the ultrasound specialists at the Family Planning Center in Sevastopolskoye were surprised that the stitches were not even visible) )) in my case .... Now I can give birth ... And in the 64th hospital, at the consultation before the operation, they told me not to even hope that they would save me something ... I advise everyone not afraid ... Everything is not at all as scary as it seems ... The seam is like a thread, there is no pain at all after the operation, there is severity, but there is no pain. Feel free to go to the operation and do not delay ... Then you will be happy ... The care is great ... Honey. all the workers are a miracle ... Very friendly, delicate .... I wish you all good health.
Tatyana
21.05.2015
Dear Laura Magomedovna! I want to say thank you very much for your warmth, humanity and, of course, professionalism. You operated on me, I was afraid, horror. But all fears were dispelled when you just took my hand before the operation and said that everything would be fine. I'm recovering now. I am immensely grateful to you for the health that you restored to me
Elizabeth
30.04.2015
Many thanks to the doctors Kapusheva Laura Magomedovna Deputy Chief Physician for Gynecology and Ibragimova Zarema Almanovna Obstetrician-Gynecologist for their reverent attitude and wonderful work and professionalism shown to me in November 2012. I am writing now because time has passed and the result of their work is on my face, my little happiness, my daughter was born in our family! I am very glad that I fell into their kind and reliable hands!