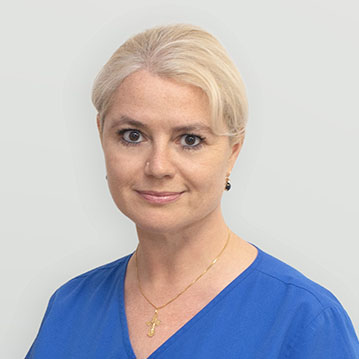 Ivanova Ekaterina Victorovna
Head of endoscopy department, endoscopist
Work experience:

19 years

Academic degree:

Doctor of Sciences, PhD

Medical category:

Врач высшей категории

Reception at:

1-й Колобовский пер., дом 4
Make an appointment
Main information
Directions
Reviews
Rules of life
Education:
2002 - Moscow Medical Academy. THEM. Sechenov, specialty - medical business.
2004 - Federal State Institution "Educational Scientific Medical Center" of the Office of the President of the Russian Federation, clinical residency, specialty - endoscopy.
2008 - Federal State Institution "Educational Scientific Medical Center" of the Office of the President of the Russian Federation, graduate school, department of gastroenterology.
2007 - primary specialization in the specialty "Surgery"
2010, 2015 - advanced training course in the specialty "Endoscopy"
Scientific activity:


Chief Researcher, Research Laboratory of Surgical Gastroenterology and Endoscopy, Russian National Research Medical University N.I. Pirogov.
Defended dissertations:
2008 - PhD thesis on the topic: "Ulcer gastroduodenal bleeding and their relationship with Helicobacter pylori infection"
2013 - doctoral dissertation on the topic: "Modern methods of enteroscopy in the diagnosis and treatment of diseases of the jejunum and ileum"
Practical activities:
Since 2011 - MRC "Clinic K + 31"
2004-2011 - State Clinical Hospital №31
2004-2008 - State Clinical Hospital No. 51, Central Clinical Hospital, UDP RF (part-time - "emergency endoscopy")
Additional Information:
Member of the Board of the Russian Endoscopic Society (organizing committee).

Member of the European Society of Gastrointestinal Endoscopy.
Member of the European expert group on capsular endoscopy.
Mastery of the basic methods of diagnostic and therapeutic endoscopy:
gastrostroscopy and colonoscopy;
bronchoscopy;
video capsule endoscopy;
balloon assisted (one- and two-balloon) enteroscopy;
all methods of stopping bleeding - emergency endoscopy;
foreign bodies extraction;
ligation of varicose veins of the esophagus;
removal of gastrointestinal tract formations, including large and submucosal ones, using techniques of loop electroexcision and endoscopic resection of the mucous membrane (including the technique of dissection in the submucosal layer)
balloon dilatation;
stenting with self-expanding stents;
percutaneous endoscopic gastrostomy (CHEG); diagnostic laparoscopy
Professional internships:
07.2014 - National Cancer Center (NCC), Tokyo, Japan (diagnostic endoscopy and treatment of early forms of gastrointestinal cancer, training in endoscopic dissection);
05.2011 - University Hospital, Erlangen, Germany (medical endoscopy, enteroscopy);
07.2009 - Cancer Institute Hospita, Tokyo, Japan and Showa University Hospital, Yokohama, Japan (diagnostic endoscopy and treatment of early forms of gastrointestinal cancer, training in endoscopic dissection techniques);
09.2009 - 11.2009 - Aarhus University Hospital, Aarhus, Denmark (diagnostic and therapeutic endoscopy, enteroscopy, ERCP, CHEG);
11.2009 - Royal Devon and Exeter Hospital, Exeter, England (diagnostic and therapeutic endoscopy).
Professional achievements and recognition:

More than 60 printed scientific publications, including foreign ones. 3 chapters in monographs.
Toolkit for doctors "Balloon assisted enteroscopy in the diagnosis and treatment of diseases of the small intestine" 2012, Clinical endoscopy 3 (33). Training material for doctors "Endoscopy of the small intestine" 2011 and patients "Diagnosis and treatment of colon diseases" 2015
The holder of the Crystal endoscope for first place in the Russian Championship on endoscopy (St. Petersburg, 2012, 2014)
"Endoscopy is life!":
Numerous reports and lectures at events held in major cities, regions of the Russian Federation and abroad. Conferences sponsored by the Russian Endoscopic Society www.endoscopia.ru. Co-organizer of annual conferences and practical courses. An expert of training seminars in the regions of the Russian Federation and master classes with leading world experts in endoscopy.
Previously, we carried out endoscopic examinations using a fibroscope, looked "with the eye", now we have video endoscopes, and the image is displayed on a monitor with magnification. The research result is higher and depends not only on the vigilance of the doctor.
Now people are more aware of their health and try to undergo diagnostics for the purpose of prevention. I believe that this is how it should be and that it is correct.
Complications are a complex topic that scares and repels patients, but nevertheless one must know about them and remember that they do happen, and it is good that they are extremely rare.
Interventions should not be persistent. Sometimes you need a pause and an assessment of the situation.
Experience gives "endoscopic" sensitivity. Intuitively, you understand when difficulties arise and you analyze: "what to do, so as not to harm ?!".
All my patients honestly say they are afraid. I always try to find an approach that will help them calm down. Someone needs to tell the whole course of the procedure, and someone just needs to be encouraged.
Once the girl asked: "Does everyone come out of here alive?" Definitely yes.
It is important that the patient understands what is being done to him. He must be mentally prepared. With anesthesia, everything is easier, the patient wakes up when everything has already passed.
The small intestine is very beautiful. It is shiny and shines with silver when cut.
I always show this to my colleagues and sometimes to interested patients.
I think that in many patients the dislike for gastroscopy comes from childhood. Often children are given it without anesthesia, as some believe that the child will then forget everything. But in my opinion, the fear remains. I would never perform a gastroscopy on a child without anesthesia, well, only in an emergency.
The "new" technology - non-invasive video capsule endoscopy - actually began to be used back in 2001. This is a conditional innovation.
I am very interested in spiral endoscopy, thanks to it it will be possible to examine all five meters of the small intestine and very quickly!
I am one of the pioneers in the implementation of a number of technologies in the Russian Federation used for the diagnosis of the small intestine. This is my favorite organ.
Someday we will have capsules that can independently conduct research and robotic replacements for standard endoscopy techniques.
Anything can be inserted into the capsule, including biopsy forceps. But how to fix it inside and perform the intervention on purpose? That is the question.
No technology can replace the experience of a professional and find an individual approach in a clinical situation. We are all individuals.
I really love my job, studying the results, I can stay up late. And I always try to get to the bottom of the cause of the symptoms, even if they are very subtle.
Sometimes casuistic cases happen, for example, we somehow discovered a fish bone embedded in the epithelium of the stomach.
I didn't think about medicine and wanted to be an accountant, but First Med was a 10-minute walk from home, so I chose it. And you know, I have never regretted it.
When I was in residency, there were many elderly people in our department who went to bed every year for examination for the purpose of prophylaxis, and they already knew the main team of experienced doctors of the department, immediately singling out "young newcomers, students." I came to do a colonoscopy, when suddenly my patient jumped up and began to run in a circle, shouting: "I am not a guinea pig, I will not give in to the resident."
I was very upset, but it was a good example that patients are different.
Earlier, during my first years of independent work, we did laparoscopy under local anesthesia. I was on duty and sometimes I had to conduct it myself, even without a nurse. Sometimes we were forced to ask patients to help themselves during research and interventions, for example, holding an instrument or a mouthpiece. It was terrible, fortunately, now everything is different.
Before we even had to fix some of the tools ourselves. After going through this, you begin to appreciate the opportunities that modern technologies provide.
When I was just starting to be interested in endoscopy, the first thing I said was: "I want to learn endoscopy, but not to perform gastroscopy and colonoscopy." And that is what makes up a large part of my daily work now. I really wanted to do laparoscopic gynecology.
Not accepted, and I do not conduct research on my relatives, but if necessary, I would do without hesitation.
In some ways, I have already grown to the point where I know enough in a number of areas of our specialty to transfer experience and train young specialists.