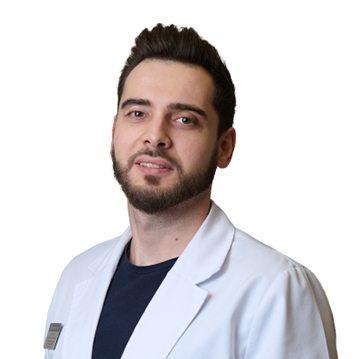 Gurchiani Alexander Razhdenovich
Radiologist
Work experience:

4 years

Reception at:

1-й Колобовский пер., дом 4
Make an appointment
Main information
Directions
Reviews
Education:
PSMU named after I.M. Sechenov, medical business.
Postgraduate education (residency) - NMHTS them. N.I. Pirogov, Department of Radiation Diagnostics
Further education courses:
Thoraco-abdominal pathology imaging methods in a multidisciplinary surgical clinic: new horizons (September 12-13, 2017).
"Radiology 2018" (May 22-24, Crocus Expo IEC), Moscow.
Scientific and educational conference "periprosthetic infection in traumatology and orthopedics" (November 24 - FSBI "NMHTs named after N.I. Pirogov")
"Fundamental research and innovation for endovascular surgery" 2018
"Actual issues of modern oncology and coloproctology" (February 8, 2018 - Federal State Budgetary Institution named after N.I. Pirogov)
Congress of the Russian Society of Radiologists and Radiologists (November 8-10, 2018)
Professional skills and possession of unique techniques:
His professional interests include classic X-ray, Computed Tomography and Magnetic Resonance Imaging, more inclined to the organs of the abdominal cavity and retroperitoneal space, pelvis, CT and MR angiography, joints, brain, spine.
Julia
11.12.2021
You cannot find words for saving a person's life, for a correct diagnosis, for making loved ones happy! Thank you for being there, Alexander Razhdenovich !!!
Angelika Simonova
05.08.2021
I want to express my gratitude to the personnel doing the MRI, alas, the patient turned out to be extremely claustrophobic and the procedure did not take place, but the patience and professionalism with which the girls treated their work are invaluable! We will return to the clinic again.