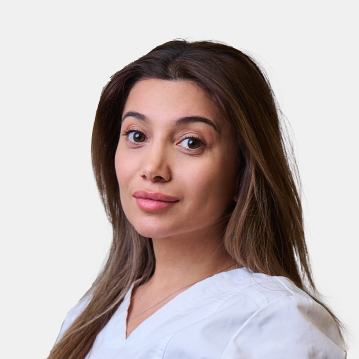 Gurbanova Fatima Khazeinovna
Obstetrician-gynecologist
Work experience:

8 years

Reception at:

ул. Оршанская, д. 16, стр. 2
Make an appointment
Main information
Directions
Reviews
AT THE RECEPTION
Menstrual irregularities.
Treatment of various forms of endometriosis (including postoperative management).
Age-related changes in the female body (40+).
Diagnostics and treatment of gynecological diseases, contraception, menopausal/hormone replacement therapy.
Treatment of diseases of the cervix, vagina and vulva (biopsy, outpatient surgical treatment - radio knife, laser, non-surgical laser treatment).
Intimate injection filling of the anogenital area.
Insertion and removal of an intrauterine device (IUD).
Colposcopy.
Introduction and removal of the subcutaneous contraceptive "Implanon".
EDUCATION
2013 - Russian State Medical University named after N.I. Pirogov, specialty "General medicine".
2014 - Russian National Research Medical University named after N.I. Pirogov, internship.
REFRESHER COURSES
2016 - primary specialization in the specialty "Ultrasound diagnostics".
2017 - X All-Russian seminar "Reproductive potential of Russia: versions and contraversions", Sochi.
2017 - scientific and practical conference "Colposcopy. Diagnostics and treatment of precancerous diseases of the cervix, vagina and external genital organs", Moscow.
2017 - XI International congress on reproductive medicine, Moscow.
2018 - XI All-Russian scientific and practical seminar "Reproductive Potential of Russia: Versions and Contraversions", Sochi.
2021 - II International congress "Interdisciplinary Aspects of Clinical and Aesthetic Gynecology", Moscow.
KNOWLEDGE OF FOREIGN LANGUAGES