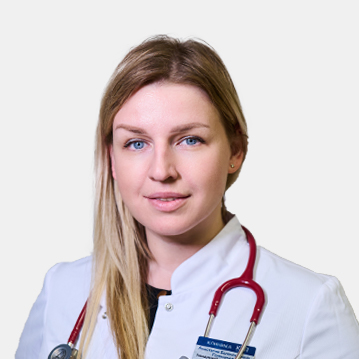 Goltsman Anastasia Valentinovna
Head of the department of pediatrics, pediatrician
Work experience:

12 years

Reception at:

ул. Оршанская, д. 16, стр. 1
Make an appointment
Main information
Directions
Reviews
AT THE RECEPTION
Urgent and emergency care for children.
Outpatient management of patients aged 0-18 years.
Patient supervision according to an individual schedule.
Medical accompaniment of the patient.
Working with emergency conditions.
Working with children with eating disorders.
EDUCATION
2010 - Peoples' friendship university of Russia, Moscow, institute of foreign languages, assistant-translator (german).
2010 - Peoples' friendship university of Russia, Moscow, faculty of medicine, general medicine.
2012 - Peoples' friendship university of Russia, Moscow, faculty of medicine, pediatrics.
2016 - Russian medical academy of postgraduate education, Moscow, faculty of preventive medicine and health organization, health organization.
2017 - Peoples' friendship university of Russia, Moscow, medical, pediatrics.
2019 - City Business School, МВА General.
2021 - National research university "Higher school of economics", Moscow, professional retraining, "Economics and Enterprise Management" (by industry).
2021 - Moscow state institute of international relations of the Ministry of foreign affairs of the Russian Federation, Moscow, MGIMO Ministry of Foreign Affairs of Russia, "Management in health care: regulation, organization, practice".
REFRESHER COURSES
2017 - participant of the World Summit on Pediatrics conference, Rome.
2020 - MNO, "Health organization and public health".
2020 - AMO Academy of medical education, course on urgent and emergency care in medical practice.
2021 - Sechenov university, Methodological Center for accreditation of specialists, "Health organization".
2021 - Higher School of Economics, "Economics and organization management".
2021 - ANO DPO TsPKPP, "Examination of temporary disability".
PROFESSIONAL DEVELOPMENT
Experience of department management and experience of medical practice.
Knowledge of various areas of therapy.
Interaction with external clients and improvement of indicators related to work with clients; experience in the financial and economic part, and in matters of branch promotion.
Knowledge of the local pharmaceutical industry and the legal health system (experience in the Ministry of Health on procurement issues).
Excellent negotiation skills, including in english and german (interaction with clients, regulatory authorities, insurance companies).
Well-developed organizational skills and understanding of business, high expertise in the field of medicine and additional knowledge and education in the field of economics and management.
KNOWLEDGE OF FOREIGN LANGUAGES
Examination of children: from 0 to 18 years old.