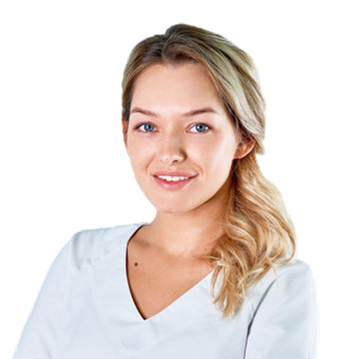 Davydova Ekaterina Ruslanovna
Dentist therapist
Work experience:

7 years

Medical category:

Вторая квалификационная категория

Reception at:

ул. Лобачевского, дом 42, стр. 4
Make an appointment
Main information
Directions
Reviews
EDUCATION
2014 - Saratov State Medical University named after V.I. Razumovsky.
REFRESHER COURSES
2015 - Clinical aspects of the use of dental materials, VOCO GmbH.
2017 - Clinical aspects of everyday endodontics, dr. Solomonov Michael.
2018 - Practical course on the preparation of the root canal of the tooth with the SAF system.
2018 - Endodentistry: Obturation and irrigation, dr. Domenico Ricucci.
2021 - Theoretical and practical aspects of safe teeth whitening, Minimally invasive methods of treating discolored teeth of various etiologies, Bichikaeva Z.A.
PROFESSIONAL SKILLS
Aesthetic restoration of all groups of teeth by direct (composite restorations) and indirect (ceramic inlays) methods.
Endodontic treatment of any degree of complexity, retreatment of teeth.
Professional oral hygiene, personal hygiene training, selection of individual hygiene products.
Teeth whitening, office and home.
Minimally invasive methods for the treatment of dental discoloration of various etiologies.
PROFESSIONAL DEVELOPMENT
Professional development in aesthetic dentistry.
KNOWLEDGE OF FOREIGN LANGUAGES
Russian.
English.
German.
Examination of children: no.