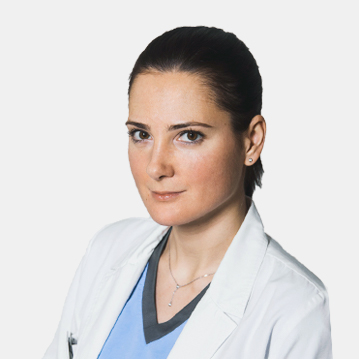 Chernaya Oksana Yuryevna
Obstetrician-gynecologist
Work experience:

10 years

Reception at:

1-й Колобовский пер. дом 4
Make an appointment
Main information
Directions
Reviews
EDUCATION
2009 - 2011 - Clinical residency in obstetrics and gynecology at the FGOU DPO Institute for Advanced Studies of the Federal Medical and Biological Agency of Russia on the basis of Maternity Hospital No. 16 and KB No. 83.
2003 - 2009 - Moscow Medical Academy. IM Sechenov, day department of the medical faculty, specialty - general medicine.
TRAINING COURSES
2019 - certification cycle "Selected Issues of Aesthetic Gynecology".
2019 - School of Aesthetic Gynecology.
2019 - "Thread correction of the anogenital area in women".
2018 - "Endoscopic surgery in gynecology", advanced training at the Department of Endoscopic Surgery, Moscow State University of Medicine and Dentistry. A.I. Evdokimova, Ministry of Health of Russia.
2018 - ALOE Congress, course on obstetrics and gynecology led by Professor Stefano Betocchi (Bari, Italy).
2018 - "Modern obstetrics and gynecological pathology", certification cycle at the Department of Obstetrics and Gynecology to lay down. Faculty of State Budgetary Educational Institution of Higher Professional Education MGMSU them. A.I. Evdokimova, Ministry of Health of Russia.
2017 - "Integrated approaches in organ-preserving treatment of uterine fibroids", under the guidance of Professor K.V. Puchkov.
2017 - "Modern aspects of conservative and surgical treatment of uterine fibroids", under the guidance of Professor A. A. Popov.
2017 - "Surgical treatment of urinary incontinence and genital prolapse using the Obtryx synthetic loop and the Uphold lite system", under the guidance of the professor of the Department of Urology, Moscow State University of Medicine and Dentistry. A. I. Evdokimova M. Yu. Gvozdeva.
2016 - "High-tech medical care in gynecology", St. Petersburg.
2015 - "Surgical and drug treatment of endometriosis from the point of view of the patient's profile", scientific and practical seminar at the Center for Clinical and Experimental Surgery under the guidance of prof. K.V. Puchkova.
2015 - certification cycle at the Department of Obstetrics and Gynecology, Faculty of General Medicine, GBOU HPE MGMSU named after A.I. Evdokimov of the Ministry of Health of Russia.
WORK EXPERIENCE
2011 - 2012 - Obstetrician-gynecologist at medical unit No. 170.
2012 - 2017 - Obstetrician-gynecologist of the gynecological department with the use of assisted reproductive technologies and the medical center of the Central Clinical Hospital of the Russian Academy of Sciences.
2017 - 2018 - Obstetrician-gynecologist of the gynecological department of the State Budgetary Healthcare Institution of the Moscow Region "Dolgoprudny Central City Hospital"
2018 - present - Head of the Department of Gynecology at the Central Clinical Hospital of the Russian Academy of Sciences.
PROFESSIONAL SKILLS
Fully proficient in the technique of gynecological operations with laparoscopic, laparotomic and vaginal approaches.
Full knowledge of the technique of minor gynecological operations (separate diagnostic curettage, hysteroresectoscopy, classical and office hysteroscopy).
Diagnostics and treatment of cervical pathology (excision, cervical biopsy, radio wave therapy of the cervix).
Aesthetic gynecology (G-spot augmentation, labia plasty, intimate contour plasty, hymenoplasty).
Member of the Russian Society of Obstetricians and Gynecologists.
Elena
20.01.2020
In the clinic at the place of residence, I was diagnosed with dysplasia, cervical third degree, type 16 HPP. For a long time I was looking for a doctor to whom I could entrust my health, when I got an appointment with Oksana Yurievna I realized that this is the high-level specialist who can help me and was not mistaken. She listened with such kindness, calmed me down and chose the treatment that would be most effective in my situation. The operation went so well and at the highest level that after it there was no bleeding or pain. More than a year has passed. I pass control tests, everything is fine, there is no dysplasia or HPP. Oksana Yurievna is not only a great professional in her field, but also loves people and her profession very much (to save people from diseases and prolong their lives) It is very pleasant to realize that there are still such specialists in our country.
Anna
16.01.2020
A competent doctor who knows his business. I am very glad that I was once directed to her. He always gives only really necessary recommendations, everything is clear and to the point. Dispels all experiences, if something is not clear, explains in detail.
Tatyana
16.01.2020
I came to the gynecologist Oksana Yuryevna Chernaya 5 years ago, before that I was with many, because there were a lot of problems in gynecology. I immediately really liked her attitude towards the patient, she explains everything in human understandable language, then there were operations that Oksana Yurievna successfully performed. I want to say, a thousand times THANKS and more angels like her!
Julia
29.12.2019
Hello! Oksana Yurievna was seen in another clinic and now at K + 31. In 2018, I had ovarian endometriosis, Oksana Yuryevna was recommended to me. The operation was very delicate, the ovaries were not affected, and the ovarian reserve was not reduced. Oksana Yurievna is the most attentive, accurate, she will always explain everything in detail and tell you that the most important thing is always discussing all the pros and cons, she will not advise anything superfluous. Oksana Yurievna is the best gynecologist I've met!
Tatyana
24.10.2019
In 2019, Oksana Yurievna recommended and successfully performed an operation to remove uterine fibroids. At that time, this was the first call to this specialist. I decided for a long time to have an operation, consulted on the method of removal with specialists whom I trust and everyone confirmed the recommendations of Oksana Yurievna. In addition, she explained to me exactly my case in great detail and in an accessible manner. Now I am very glad that I fell into her hands and am very grateful to her! Subsequently, I also turned to Svetlana Yurievna for advice, and this is always a very professional approach, attention to all details, a clear explanation of the situation, complicity. Oksana Yurievna is always friendly and calm, which greatly facilitates communication on delicate topics. I trust Oksana Yurievna 100%, I can safely recommend her to her friends!
Kristina
17.05.2019
In 2016, by the will of fate, I had to meet Oksana Yuryevna, to this day I only go to this doctor. The doctor made me, in my opinion, such a complex operation (there was a huge ovarian cyst), but so carefully, as if it was not there! I thank the people who referred me to this doctor! Professionalism, competence, empathy, attentiveness, sociability, poise, hard work, humanity and much more that can only be in the right profession and just in a good person! Maybe my review will seem to someone too eloquent and emotional, but I will say this! I very often come across the shortsightedness (incompetence) of doctors and a boorish attitude from them, that having met such a professional, such a warm response cannot but occur in my heart! We wish we had more such professionals and such warm responses for such a wonderful job!