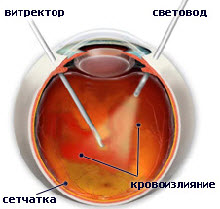 Vitrectomy ("vitreum" - the vitreous body, "ectomy" removal) is a microsurgical removal of the vitreous body of the eye. The operation can be performed in the Department of Ophthalmology. Eye Microsurgery K + 31.
Indications for vitrectomy
Vitrectomy can be done in the following situations:
retinal disinsertion;
retinal tension by an attached vitreous body (traction), leading to retinal detachment, especially when this can affect the central area of the retina, which is responsible for objective vision;
retinal breaks;
hemophthalmus (vitreous hemorrhage). The operation will reduce the loss of vision caused by vitreous hemorrhage when the bleeding is heavy or when the blood does not resolve within a few months;
injuries and surgeries affecting the posterior segment of the eye;
foreign body inside the vitreous body;
significant opacification of the vitreous body;
severe proliferative retinopathy, causing the formation of fibrous tissue on the retina or the growth of new blood vessels on the retina (neovascularization), despite repeated laser treatment.