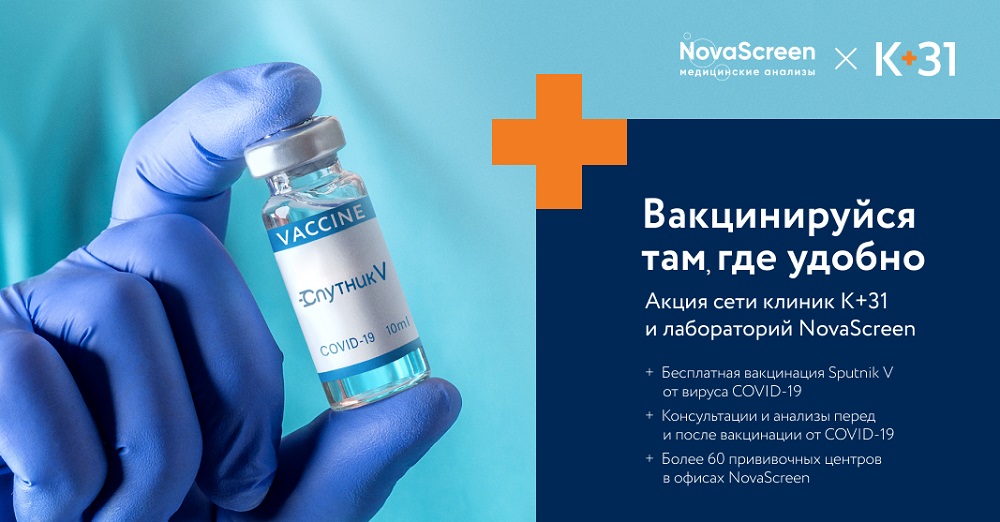 Joint action of the network of clinics K+31 and the laboratory NovaScreen (60+ offices in Moscow).
Addresses under the link: https://novascreen.ru/vaccination/
Free vaccination against COVID-19.
Tests before and after vaccination against COVID-19.
Doctor's consultation K+31 before vaccination.
Vaccination is carried out by Sputnik V - Gam-COVID-Vac (combined vector vaccine).
The vaccination certificate is issued in Russian and English. The data is automatically transferred to the official registers of the health care system of the Russian Federation and to the State Service portal.
Carried out on condition:
18+ years old.
Previous vaccination completed more than 28 days before the date of vaccination.
No polyvalent allergy*.
There is no manifestation of an acute infectious process.
There is no exacerbation of a chronic disease.
Citizenship or registration of the Russian Federation.
Vaccination at NovaScreen 7 days a week:
Mon-Fri: from 15.00 to 19.30.
Sat-Sun: from 12.00 to 15.30.
Addition:
Diabetes mellitus is NOT a contraindication.
The vaccine used in the service is provided free of charge and is not included in the price of the service.
*A reaction caused by several allergens at once.
The promotion is valid only at Novascreen offices.
In K+31 vaccinations can be paid for with bonus points.