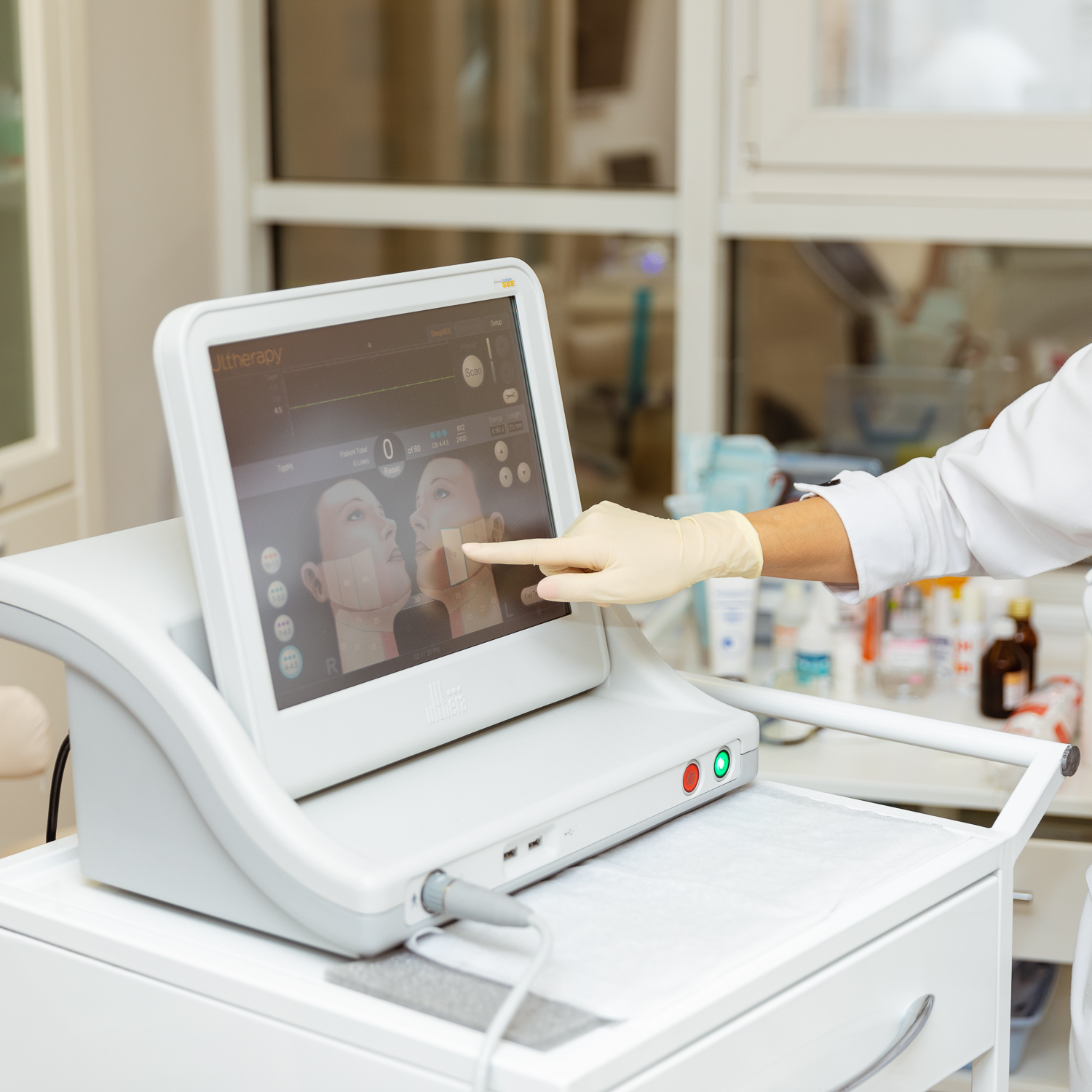 Do any plastic surgery in K + 31 and within 3 months you will receive a free consultation with a cosmetologist and a 20% discount on cosmetic services.
Attention! This discount is available for 3 months after the operation. When paying for auction services, no other discounts or special offers on promotions, discount and gift cards (certificates) apply.
The following services participate in the promotion:
Hair removal and depilation services for various areas of the body.
Yulfit-therapy:
focused ultrasound for non-invasive lipolysis in the area: abdomen and sides, the outer inner surfaces of the thighs, buttocks, back.
Dermatological face peelings:
Chemical: salicylic acid 30% ENERPEEL SA, mandelic acid 40% ENERPEEL MA
Chemical - retinoic Inno-Exfo Lightening for face and neck,
Enzymatic
Superficial (Easy Peel), superficial median, median Unideep
Local deep) Only Touch
Peelings Time Code: Light Classic, Light Recovery, Light PCT, Basic Classic, Basic Advance.
Restorative peels IO PRC: face, neck, décolleté.
Ultrasonic dermatological face peeling
Injection therapy: Botox, Dysport, Xeomin.
The introduction of artificial fillers in soft tissues for the correction of wrinkles, the treatment of hyperhidrosis, form:
PROFHILO, Restylane (Restylane Lidocaine), (Restylane Perlane Lidocaine, (Restylane SubQ), (Restylane Vital), Restylane (Restylane Vital Injector), (Restylane Vita lLight), (Restylane Vita lLight Injector), Restylane Lip Lip Volume ( ) in a volume of 1.0 ml 20%; Radiesse Radiesseв, Sugiderm (Surgiderm) 24 XP and 30 XP, Ial-systems (IAL SYSTEM) and Ial-systems (IAL SYSTEM) Prolonged ACP; YaluPro (JALUPRO), YaluPro (JALUPRO) HMW, Belotero software; Belotero SOFT, Sculptra, Sculptra, Juvederm Voluma, Juvederm Ultra smile.
Biorevitalization
:
Subcutaneous administration of drugs:
Aquashine HA, Aquashine VR
Filorga X-HA and Filorga M-HA
Bioreparation:
Intradermal drug administration: Meso-Wharton, MesoEye, Meso-Xanthin, MesoSculpt
Injection methods of rejuvenation and skin correction suggest subcutaneous or intradermal administration of drugs.
Injection therapy is also suitable for solving problems: skin detox, mesolifting, in the complex correction of local fat deposits (Dermastabilon drug), in a complex of measures to combat cellulite.
Mesotherapy:
The technique combines the actions of intradermally-injected drugs with the stimulation of biologically active points. Face preparations: Melsmon, Skinko and Skinko E - cocktails. Hair Products: Hair loss control,
PRP — therapy
(platelet rich plasma), autoplasmotherapy (synonym - plasmolifting therapy):
Zones: scalp, décolleté, hands, face and neck, separately and in combination, as well as throughout the body.
Ultrasonic and laser rejuvenation methods:
Ultrasonic SMAS lifting:
Exposure to ultra-high frequency currents on the skin by an Altera apparatus (UlTHERA System, USA). Full face correction new protocol - 5 ++ (about 800 lines) and 5 + protocol (about 500 lines)
Age group 30-40 years:
Face: 304 and 388 study lines: standard and advanced protocols - full and zonal: eyebrows, open look technique, correction of the upper third of the face, upper eyelid with partial lifting of the eyebrow, prevention and correction of hernias of the lower eyelid (50 lines), lifting of the cheekbones and cheeks new 5 ++ protocol (about 250 lines) or 5+ protocol (about 200 lines)
Age group: before 40 and after 45 years
Correction of the middle and lower part of the face - cheek and chin lift new protocol 5 ++, protocol 5+
Zonal neck and chin listings
from chin to collarbone with various protocols.
Neckline
Hands and feet lifting:
Lifting the area above the knee and moving to the inside of the thigh - both legs Lifting the area above the knee and moving to the inside of the hand - both hands
Peeling:
Laser skin resurfacing and Laser rejuvenation with the Genesis nozzle: face, neck, décolleté (in combination and separately), hands.
Laser skin resurfacing and Laser skin peeling with MCL-30 Dermablate: face (full and zonal), neck, décolleté - separately and in combination.
Removing skin imperfections by laser resurfacing.
Treatment of pigmented skin disorders using the Palomar system.
Treatment of rosacea, rosacea, telangiectasias with the help of the Vascular nozzle
Thermolifting:
Rejuvenation with infrared radiation using a TiTAN nozzle:
Zones: Face, décolleté, neck, stomach, hips, buttocks, arms,
Laser rejuvenation
Laser resurfacing of the skin - ablative laser rejuvenation using the Perl nozzle (Cutera). Zones: the whole face (surface resurfacing or deep resurfacing), the whole or part of the face (with or without eye area), neck, décolleté, scars, stretch marks.
Treatment of acne with the Genesis nozzle (Cutera) can cleanse the face, neck, décolleté (in combination and separately), back.
Photorejuvenation:
Laser resurfacing of the skin - photorejuvenation using the LIMELIGHT nozzle (Cutera). Zone: face.
Consultations of
medical specialists:
Consultations of specialists on the appointment of a cosmetologist, as well as dispensary and preventive, initial and repeated appointments within the framework of the action, as well as before and after the procedure for removing formations on the skin:
Dermatovenerologist.
Repeated appointment with a cosmetologist.
Hair research:
Trichoscopy and phototrichogram: Examination of hair under magnification.
Examination of the skin under magnification (dermatoscopy)
Dermatoscopic examination of the skin (skin passport)
Removal of benign skin tumors:
using liquid nitrogen (molluscum contagiosum).
Surgitron or laser skin destruction method -CUTERA
papillomas, keratomas, warts, xanthelasms up to 0.5 cm2, milia of the skin, genital warts, warts.
And also - Laser treatment of onychomycosis, onychodystrophy
All these services, as well as cosmetics and medicines, are participating in the promotion. Administrators at the reception, call center operators and consultations have details.