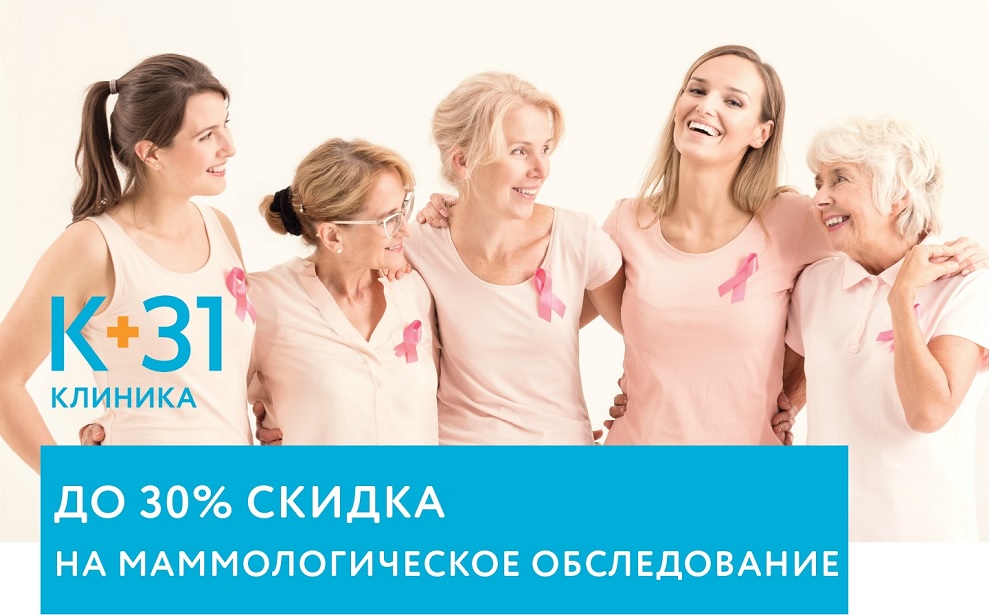 Comprehensive diagnostics for women at K+31 is available with a 30% discount.
The survey program includes:
Initial consultation with a mammologist.
Repeated doctor's consultation.
Such a program is the best option for diagnosing and preventing women 40+ in order to screen for breast cancer. In case of timely detection of pathology, a successful cure is possible in 98%* of cases.
A comprehensive mammological examination allows you to identify the structure of muscle and glandular tissue.
After 40 years, the glandular tissue is replaced by adipose and connective tissue. Ultrasound waves pass well through muscle and glandular tissue, but poorly through adipose tissue, therefore mammography becomes a more informative method at this age.
Features of the K+31 mammological center:
The mammologists of the K+31 clinic are unique specialists who know all the methods of examining the mammary gland, which allows a woman to be examined by one doctor.
Individual approach - we prescribe only those examinations and treatments that are required individually for a woman.
The clinic's service is based on love for women and European quality standards.
All necessary research is carried out on the day of treatment.
The equipment is not only of high precision, but also recognized by the majority of patients as the most comfortable.
Almost all stages of treatment, including surgery, chemotherapy and subsequent rehabilitation.
When is it worth getting diagnosed:
You are an absolutely healthy woman. Regular mammography is recommended for all women from the age of 40, regardless of the presence or absence of breast complaints.
You have complaints. If you experience any symptoms (chest pain, nipple discharge, induration, etc.), it is extremely important to see your doctor to rule out breast cancer.
Breast cancer risk assessment. Should be passed if first-line relatives (mother, father, sister, daughter, son) have breast cancer, prostate cancer, pancreatic cancer, ovarian cancer, melanoma.
Comprehensive treatment for breast cancer.
Rehabilitation, recovery after treatment.
Follow-up after treatment.
The discount is valid only when purchasing the program in the complex. For details of the promotion, check with the call center or with the administrators of the customer happiness department.