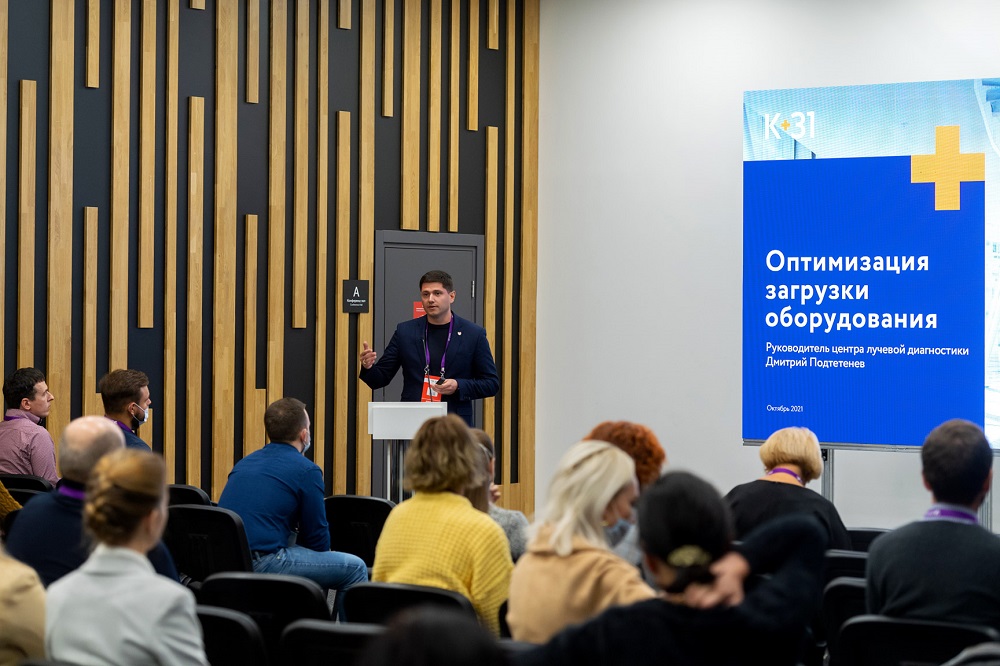 Dmitry Sergeyevich Podtetenev, head of the diagnostic center of the network of clinics K+31, took an active part in the first Russian Diagnostic summit as a moderator and lecturer.
On October 19, he participated as an organizer and moderator of the startup session in the "Looking for you" diagnostics. The lecturers were young and ambitious researchers from various research institutes.
Koshev Nikolay Aleksandrovich, Ph.D., senior lecturer (assistant professor) of the Skolkovo Institute of Science and Technology.
"High temperature magnetoencephalography".
Savelyeva Tatiana Alexandrovna, Ph.D., senior researcher GPI RAS, associate professor, NRNU MEPhI.
"Method and device for optical-spectral diagnostics of the consistency of the anastomosis during operations for colon cancer".
Bubnov Alexander Andreevich, post-graduate student of the Institute of Philosophy and Biotechnology, National Research Nuclear University MEPhI, Medical Physicist, Department of Radionuclide Therapy, Federal State Budgetary Institution National Research Center of Endocrinology, Ministry of Health of Russia.
"Intraoperative imaging of functioning parathyroid glands during total thyroidectomy and hemithyroidectomy".
Briko Andrey Nikolaevich, Ph.D., senior lecturer at the department of biomedical engineering Moscow State Technical University named after N.E. Bauman.
"Study of the dynamics of the morphofunctional activity of muscles in order to determine the biomechanical parameters of their contraction".
Tikhomirov Alexey Nikolaevich, senior lecturer at the department of biomedical engineering Moscow State Technical University named after N.E. Bauman.
"Rheocardiographic system for non-invasive control of heart hemodynamics".
On October 20, he acted as a speaker at the session "TopLD: Best Practices from the Ranking Leaders". This session aroused great interest: colleagues from Omsk, St. Petersburg and other cities asked questions from the audience.
D.S. Podtetenev, head of the center for radiological diagnostics of the network of clinics "K+31", proposed to discuss how to increase the productivity of the department. First of all, it is the optimization of the equipment load. How to achieve it? 1. Identification of "losses" - the moments at which time is lost (assignment of unnecessary studies, duplication of assignments, etc.). 2. Following scripts to meet the patient. 3. Efficient work of the call center and branch administrator. 4. And even competent navigation through the department.
On October 21, he took part in the "Effective Motivation" session. He acted as a practitioner and shared life hacks to motivate employees. The main part of the report was devoted to intangible motivation. Aspects of assessment of basic behavioral patterns and needs of employees were highlighted.