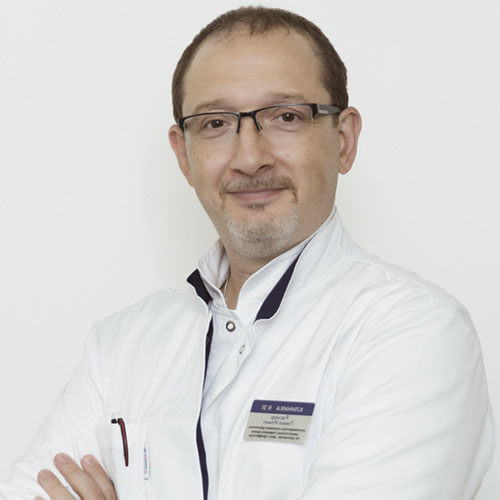 Rasner Pavel Ilyich
Head of the Urology Clinic, Deputy Chief Physician for Urology, Urologist
Work experience:

27 years

Academic degree:

Doctor of Sciences, PhD, professor

Medical category:

Высшая квалификационная категория

Reception at:

ул. Лобачевского, дом 42, стр.4
Make an appointment
Main information
Directions
Reviews
Education:
1994, graduated from the Moscow Institute of Mathematics and Architecture named after N. A. Semashko. Honors degree.
1999, he defended his thesis for the degree of candidate of medical sciences on the topic "Modern possibilities of drug treatment of benign prostatic hyperplasia."
2000, internship at KEN Clinic (Berlin, Germany).
2004, internship at the Amsterdam Medical Center (Holland).
2008, training in robot assisted operations in Strasbourg (France).
2008, graduated from the program of additional (to higher) education, majoring in "teacher of higher education".
2012, training in robot assisted kidney resection in the Czech Republic.
2014, internship at ORSI hospital (Aast, Belgium) in robot assisted surgery.
In 2016, he defended his thesis for the degree of Doctor of Medical Sciences on the topic "The choice of the method of surgical treatment of localized prostate cancer."
2018, assigned the status of "Moscow doctor".
2019, laureate of the 2019 Moscow Prize in the field of medicine for the creation of the Moscow Robotic Program.
Experience:
From 1994 to 2009 - Urologist Clinical Hospital №50.
From 1999 to present - employee of the Department of Urology, MGMSU named after A.I. Evdokimova
From 2009 to 2020 - Head of the Urology Department at the City Clinical Hospital named after S. I. Spasokukotsky.
Clinical Trials Experience:
From 1996 to 2004 - as a co-researcher in GCP studies of phases II, II and IV.
Since 2017 - coordinator of two multicenter studies.
Procedures and manipulations:
He owns the entire spectrum of laparoscopic, robot-assisted, endoscopic and open surgical interventions on the kidney, prostate and bladder.
He has extensive experience in performing transurethral resections.
Since 2004, he has been actively involved in laparoscopic surgery.
Since 2008, performs robot-assisted operations on the DaVinci surgical system.
Regularly performs radical prostatectomy, nephrectomy, kidney resection and plastic surgery for hydronephrosis.
He has extensive experience not only laparoscopic and endoscopic, but also "open" surgery.
It performs over 250 operations annually.
Professional development and achievements:
Professor, Department of Urology, Moscow State Medical University named after A.I. Evdokimov.
Member of the Russian Society of Urology.
Member of the Board of the Russian Society of Urology.
Member of the European Urological Association.
Member of the American Urological Association.
Member of the Russian Society of Oncourologists.
He is the author of more than 300 publications in the Russian and foreign press, chapters in six monographs, sections in the National Clinical Recommendations for Urology and Oncourology, 8 methodological recommendations of the Moscow Department of Health.
Invited expert teacher at the Moscow Urological School.
He gives lectures and reports at All-Russian and international conferences, congresses and symposia on the problems of urology, urogynecology and andrology.
Fluent in English.