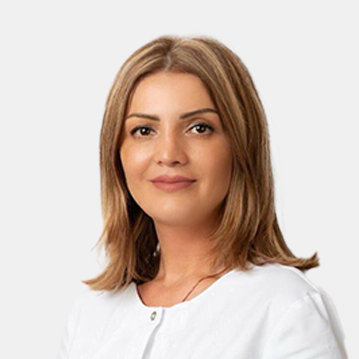 Horava Ekaterina Zaurievna
Ultrasound Diagnostic Doctor
Work experience:

20 years

Reception at:

1-й Колобовский пер. дом 4
Make an appointment
Main information
Directions
Reviews
Education:
2000 - The First Moscow State Medical University. I.M.Sechenova.
Residency on the basis of the Russian Scientific Center of X-ray Radiology and Mammology of the Ministry of Health of the Russian Federation.
Further education courses:
2011 - refresher course, National Medical and Surgical Center. N.I. Pirogova, Moscow.
2014 - certification courses in ultrasound dopplerography of the main arteries of the head and cerebral vessels, Scientific Center for Cardiovascular Surgery named after A.N. Bakuleva, Moscow.
2019 - advanced training under the program of continuing professional education "Ultrasound Diagnostics" at the Faculty of Continuing Medical Education of the RUDN Medical Institute.
2019 - advanced training at the GBU Healthcare in Moscow, the Scientific and Practical Clinical Center for Diagnostics and Telemedicine Technologies of the Moscow Health Department under the additional professional program "Ultrasound Diagnosis of Breast Diseases".
Professional skills:
Ultrasound of the abdominal cavity and retroperitoneal space.
Ultrasound of the bladder.
Ultrasound of the kidneys.
Ultrasound of the thyroid gland.
Ultrasound of the mammary glands.
Ultrasound of the pelvic organs.
Ultrasound of the prostate gland (TRUS).
Ultrasound scrotum.
Ultrasound of soft tissues.
Ultrasound of the fetus for pregnant women in the I-trimester.
Ultrasound of the vessels of the neck.
Ultrasound examinations using elastometry.
Professional development and achievements:
Participation in seminars, conferences, professional associations.
Participant of conferences and congresses devoted to current problems of ultrasound diagnostics.