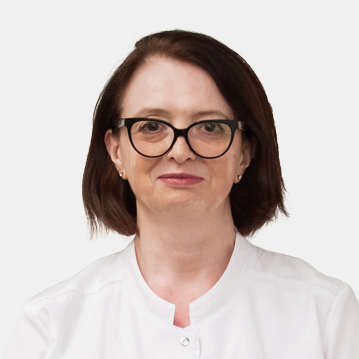 Mikula Lada Nikolaevna
Ultrasound Diagnostic Doctor
Work experience:

26 years

Medical category:

Врач высшей категории

Reception at:

ул. Лобачевского, дом 42, стр.4
Make an appointment
Main information
Directions
Reviews
Education:
Krasnoyarsk State Medical Institute, specialty pediatrics, graduation year 1991
internship in pediatrics, end 1992, Clinical residency in pediatrics 1992-1994.
Further education courses:
2016- "Ultrasound Diagnostics in Gynecology" thematic improvement
2015- "Radiation Diagnostics" certification cycle
2012- "Ultrasound Diagnostics", professional retraining
2010- "Ultrasound Diagnostics", advanced training
2005- "Ultrasound diagnosis of diseases of the soft tissues and joints of the musculoskeletal system", thematic improvement
2005- "Actual issues of ultrasound diagnostics", thematic improvement
2003- "Complex ultrasound examination of the vascular system", thematic improvement
Professional development and achievements:

She took part in Russian and regional congresses and conferences on ultrasound diagnostics.
Member of the Russian Association of Ultrasound Diagnostic Specialists.