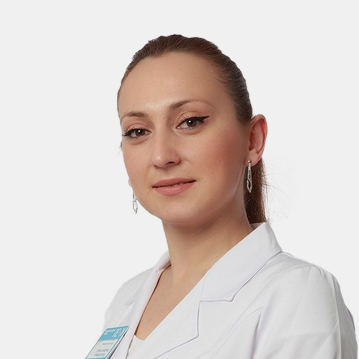 Bigwawa Nino Valeryevna
Radiologist
Work experience:

2007

Reception at:

ул. Лобачевского, дом 42, стр.4
Make an appointment
Main information
Directions
Reviews
Education:
2007 - Moscow Medical Academy named after I.M. Sechenov, faculty - medical business.
2009 - MMA named after I.M. Sechenov, residency, department "Radiation
diagnostics and radiation therapy ", specialty - radiologist.
Area of professional interests:

CT (CT - angiography, CT - perfusion of the brain, CT - urinary system).
Scientific activity:

Preparation of the dissertation.
Professional achievements and recognition:

International Congress "Radiology 2009" and "Radiology 2010"
Был на КТ у доктора, впечатления сугубо положительные. Проце
дура прошла быстро. Доктор дала детальную и понятную расшифровку. Планирую лечиться дальше в клинике.
deploy...
Константин / 05.04.2017