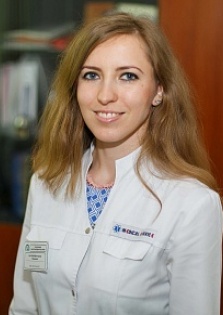 Sychenkova Irina Yuryevna
Leading MRI Specialist
Work experience:

2009

Academic degree:

Leading expert MNIOI them. P.A. Herzen

Reception at:

ул. Лобачевского, дом 42, стр.4; 1-й Колобовский пер. дом 4
Make an appointment
Main information
Directions
Reviews
Education:
In 2009 graduated from the Moscow Medical Academy. I.M.Sechenov (currently First MGMU named after I.M.Sechenov), medical faculty. In 2011 graduated from residency at the base of the Russian National Surgical Center named after B.V. Petrovsky, majoring in radiology.
Area of professional interests:
He has extensive experience in describing CT and MR studies, including using various techniques (dynamic contrasting, DWI).
Field of Interest: Oncoradiology, Radiology in Gynecology
Professional achievements and recognition:
Author of 7 publications, participant of Russian and international conferences (Radiology, Congress of POPP, ECR), author of poster and oral presentations, including at international conferences.
POPP member, ESR member