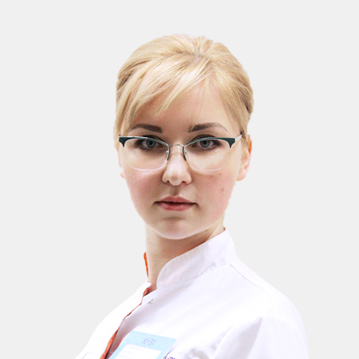 Panfilova Ekaterina Alexandrovna
Ultrasound Diagnostic Doctor
Work experience:

15 years

Academic degree:

PhD

Reception at:

1-й Колобовский пер. дом 4
Make an appointment
Main information
Directions
Reviews
Education:
2005 - First Moscow State University. THEM. Sechenova
2007 - Residency - Department of Radiation Diagnostics, UMTS Management of the Presidential Affairs of the Russian Federation
2010 - Postgraduate study - Department of Radiation Diagnostics of the Ukrainian National Medical Center, Office of the President of the Russian Federation
2015 - "Clinical echocardiography", Training and Research Center of FSBI "NTSSSH im. A.N. Bakuleva "RAMS, 2014
2015 - "Elastography in the diagnosis of liver diseases", TsNIIG
2016 - "Ultrasound Diagnostics in Obstetrics and Gynecology", Federal State Budgetary Educational Institution of Continuing Professional Education "Institute for Advanced Studies of the Federal Medical and Biological Agency", 2016.
Professional development and achievements:
The author of more than 30 publications on current issues of ultrasound diagnostics in medical journals, including those indexed by the Higher Attestation Commission. Member of Russian and foreign congresses, conferences and symposia with international participation.
In my opinion, Ekaterina Aleksandrovna is a specialist who c
an be safely called the word of honor - DOCTOR. Let me explain what I mean: in our time, specialists, especially in the field of diagnostics, do not bother much with such things as the culture of communication with patients, delicacy, explaining our problems to us to patients, especially in popular language. Somehow conveyor belt, silently and quickly monitor something there and send it to another specialist with a piece of paper, which for us is `` nothing about ''. And already you get used to it and think that this is normal ... But no! Due to my illnesses, I very often have to do an ultrasound scan, and for many years, just that rare case when you get an appointment with a true DOCTOR - accurate, attentive, tactful, very (well, very) delicate, with as deep as I can judge, knowingly, and even with the skill of popular explanation of the research result. WHAT ELSE IS NECESSARY !!! SUPER!!! Personally, it is very important for me to see in a specialist not only a professional, but at least signs of humanity. Thanks again, DOC! If I were a medical director, I would send specialists to the "Master class" to DOCTOR Panfilova! :) In a word, I recommend it to everyone who is interested in similar ideas about doctors.
deploy...
Oleg Alexandrovich / 02.12.2018
I was twice at the reception of Ekaterina Alexandrovna. A to
p-class professional who knows how to accurately, quickly and efficiently do his job. Perfectly builds a dialogue with the patient, instilling complete confidence. The best recommendations!
deploy...
Emil / 18.12.2018