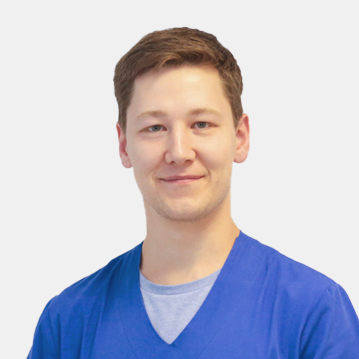 Abdrakhmanov Rinat Ravilevich
Orthopedic trauma surgeon, vertebrologist
Work experience:

8 years

Academic degree:

PhD

Reception at:

ул. Лобачевского, дом 42, стр.4
Make an appointment
Main information
Directions
Reviews
Education:
2014 - 2017 Full-time postgraduate studies, RUDN University
2012 - 2014 Residency, PFUR
2006 - 2012 General Medicine, RUDN University
Further education courses:
Principles of arthroscopic reconstruction of the PCB, Karl Storz Endoskope, Moscow, March 2019
Principles of Atroscopy of the Knee, Karl Storz Endoskope, Moscow, September 2018
Minimally invasive methods in spinal surgery, Krasnodar (supervisor I.V. Basankin), October 2017
AO Spine basic course, St. Petersburg, June 2015
AS Trauma basic course, St. Petersburg, March 2015
Internship at the University Hospital of Bordeaux, France. Clinic of Spinal Surgery (Professor Jean-Marc Vital), May 2014
Professional skills:
Vertebrology (pathology of the spine): transpedicular fixation, corporodesis from the anterior and posterior approach. Osteochondrosis, disc herniation - decompression and stabilization at the cervical, thoracic, lumbar levels. Vertebroplasty, kyphoplasty for fractures on the background of osteoporosis, hemangiomas
Interventional pain therapy: radiofrequency ablation (RFA, RFH), intra-articular injection, epidural blockade for back pain
Arthroscopy of the knee joint in case of damage to the menisci, cruciate ligaments, dislocation of the patella, cartilage defects
Traumatology and orthopedics: the whole range of traumatological operations
Professional development and achievements:
Professional Associations
Ao trauma
AO Spine
Association of Interdisciplinary Medicine
Scientific activity
The author of 14 publications, including 4 articles in journals from the list of the Higher Attestation Commission
The author of 2 patents of the Russian Federation - a useful model and method of treatment in the field of vertebrology
Co-author of 2 study guides
I really liked Rinat Ravilevich's reception. It seemed t
o me that this is a very attentive specialist who is trying to understand everything thoroughly. In addition, I want to note the benevolent, patient and polite attitude towards patients.
deploy...
Tatyana / 26.02.2020