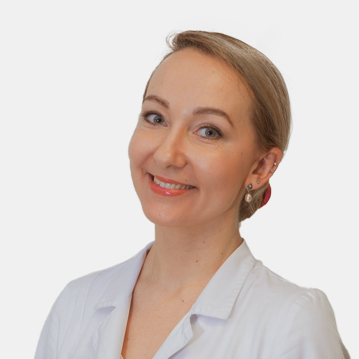 Kuryleva Irina Mikhailovna
Ophthalmologist, Laser Surgeon
Work experience:

2011

Reception at:

ул. Лобачевского, дом 42, стр.4
Make an appointment
Main information
Directions
Reviews
Education:
2010 - Moscow State University named after M.V. Lomonosov, Faculty of Fundamental Medicine, specialty - medical business, diploma with honors;
2010-2012 - Residency at the Helmholtz Moscow Institute of Eye Diseases (A.I. Evdokimov Moscow State Medical and Dental University, Faculty of Postgraduate Education, specialty ophthalmology).
2013 - "Optical coherence tomography in ophthalmology" (Helmholtz Scientific Research Institute of GB).
2013 - "Fluorescence angiography" (Helmholtz Scientific Research Institute of GB)
2014 - "Laser surgery and the introduction of fluorescence angiography" (MNTK them. SN Fedorov)
2015 - "Contact vision correction." The vision vision institute
2018 - "Laser technology in the treatment of pathology of the anterior segment of the eye" (Helmholtz Scientific Research Institute of GB)
Area of professional interests:
Comprehensive examination of patients with cataracts, vitreoretinal pathology, with refractive errors (myopia, hyperopia, astigmatism), diagnosis and treatment of infectious and allergic eye diseases, early diagnosis and conservative treatment of glaucoma, age-related macular degeneration. Laser treatment of diabetic retinopathy and other types of ocular fundus vascular pathology, peripheral vitreochorioretinal dystrophy and retinal ruptures, glaucoma, secondary cataracts. Outpatient procedures (lacrimal lavage, removal of foreign bodies from the conjunctiva, cornea, removal of papillomas of the eyelids), OCT, ultrasound. Fundus fluorescence angiography.
Scientific activity:
Co-author of 14 publications (of which 1 - in the foreign press), 1 patent. Regular participation in Russian and international ophthalmological conferences, conferences of young scientists.
ARVO (The Association for Research in Vision and Ophthalmology) 2012 International Travel Grant recipient.
Ирина Михайловна - прекрасный специалист! Хочу выразить свою
признательность за внимательное отношение, доброту и назначенное мне лечение, которое помогло мне за короткий период времени. Удачи Вам в Вашем нелегком и важном для нас, Ваших пациентов, труде!
deploy...
Ольга Татаринова / 28.06.2014
Любой из нас, отправляясь на прием к врачу, испытывает внутр
еннее напряжение. И успех лечения, кроме. конечно, правильно поставленного диагноза, в значительной степени зависит от того, насколько доверительные отношения складываются между врачом и пациентом. Мне кажется, внимание и доброжелательность, которые проявляет по отношению к пациентам прекрасный врач, специалист высокого класса, врач - офтальмолог Ирина Михайловна Курылёва, пример профессионализма и высоких человеческих качеств. Каждая встреча с Ириной Михайловной даёт мне уверенность, что всё будет хорошо. Спасибо!
deploy...
Екатерина Георгиевская / 01.07.2014
Добрый день! Хочу выразить огромную благодарность и признате
льность Ирине Михайловне Курылёвой. Она такая молоденькая и при этом такой большой профессионал своего дела! Ирина Михайловна 7 июля провела мне длительную сложнейшую диагностику на высочайшем профессиональном уровне, и не пожалела времени, чтобы очень подробно и доброжелательно объяснить мне проблему, пока я все правильно поняла. Спасибо Вам большое! Ирина Михайловна, желаю Вам больших профессиональных успехов и оставаться такой же красивой и обаятельной.
deploy...
Ирина Федоровна / 19.07.2018