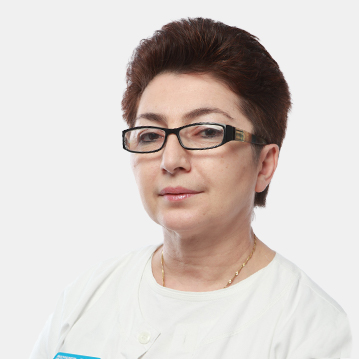 Kappusheva Laura Magomedovna
Deputy chief doctor in gynecology, obstetrician-gynecologist
Work experience:

38 years

Academic degree:

Doctor of Sciences, PhD, professor

Medical category:

Заслуженный врач РФ, врач высшей категории

Reception at:

ул. Лобачевского, дом 42, стр. 4
Make an appointment
Main information
Directions
Reviews
Education:
I MMI named after I.M. Sechenov in 1983, 1 medical faculty with a degree in "Medicine"
Clinical residency in Obstetrics and Gynecology 1983-1985 2 MOLGMI them. N.I. Pirogov
Numerous certification courses, advanced training, thematic improvement, master classes including those abroad. Topics: "Endoscopy in gynecology", "Endometriosis", "Pelvic surgery", "Mesh technologies in pelvic floor surgery", "Laparoscopy in oncogynecology", etc.
Area of professional interests:

In 2002, as part of the authors, the Prize of the Government of the Russian Federation "For the development and implementation of endoscopic methods in gynecology" was awarded.
Scientific activity:

Professor, Department of Obstetrics and Gynecology, Pediatric Faculty, Russian Scientific Research Medical University
Professional achievements and recognition:

Author of over 100 scientific publications, co-author
Member of the Russian Association of Obstetricians and Gynecologists, the Russian Association for Endometriosis, the European Society of Obstetricians and Gynecologists, the European Association of Endoscopists - Gynecologists.
Elena Kolmakova
02.06.2021
I sincerely express my gratitude to Laura Magomedovna Kappusheva for her professionalism, sensitive, attentive attitude and dedication to her beloved work. It is a great happiness that there are such talented doctors as Laura Magomedovna. I wish you health, happiness, success in your difficult, but useful and noble work! Best regards, Elena Kolmakova
Anonymously
05.03.2021
Good evening! I was in the K-31 clinic from January 31 to February 3. I had a very difficult operation. I want to express my deep gratitude, admiration to all the hospital staff, all nurses, maids, and special thanks to the woman who delivered the food. About the conditions in the clinic separately. This is a five-star hotel, where they still treat professionally. And now about the doctors. My attending physician Svetlana Ocharovna Ocharova, who helped the surgeon Alexey Sergeevich Shevchuk during the operation. Thank you for talking with me before the operation, thank you for your life. Anesthesiologist Volkov Denis, well, this is just a positive depressant doctor, many thanks to him, thanks to all resuscitation doctors. Believe me, the first time after the operation to be in intensive care, well, scary is not the right word, but thanks to the doctors you feel completely safe. Head of the gynecological department, Laura Magomedovna Kappusheva, I bow to you. Doctor from God. I am at home and now I will only go to this clinic. Yes, this is a lot of money, but believe me, money can always be earned, and health is our life. After all, this is not a tooth that is sick. And the K-31 clinic has everything you need when it comes to your own life.
Carmen
27.11.2020
Laura Magomedovna is a doctor from God with golden hands. I want to express my deep gratitude for the excellent operation and so easy recovery. ❤️
Natalia
18.11.2020
I express my sincere gratitude to Laura Magomedovna !!! Thank you!!! You are a doctor of the highest category !!!
Elizaveta Platonova
28.02.2020
Laura Magomedovna operated on me for endometrioid ovarian cyst and endometriosis on October 29, 2012, I was 26 years old, the diagnosis at discharge was endometriosis 4 tbsp. adhesive process 3-4 tbsp., after discharge, long-term treatment. All the doctors said to get ready for IVF, if you're lucky. In January 2016, COCs were canceled to start preparing for IVF and in the very first cycle I became pregnant naturally, all the doctors I encountered during pregnancy and in childbirth called my pregnancy a miracle. In October 2016 I gave birth to a boy, in December 2017 a girl, and in November 2019 another boy. Thank you, Laura Magomedovna, for my three children, thank you, for this miracle. May God give you the happiness that you bring to people.
Alexandra
15.02.2020
Laura Magomedovna is an amazing doctor! low bow and huge thanks to her for everything! I operated on my undeveloped pregnancy 2 times, perfectly smoothly, took it the very next day after the call. In such a psychological state, the doctor's care and professionalism are of enormous importance. The entire staff of the clinic is sensitive, the work is well-coordinated, impeccable, special thanks to the anesthesiologists: the anesthesia is perfect, no memories, no side effects One operation was performed in Snegireva: I remember it as a nightmare, being there became an unhealing scar in my soul.
Evgeniya
30.01.2020
Hello!. I would like to express my deep gratitude to Laura Magomedovna Kapusheva. Only yesterday I had the honor to meet Laura Magomedovna. I will be scheduled for Friday at K-31. The diagnosis of uterine cancer will be removed, before that I met with the surgeon who will perform the operation. Laura Magomedovna, I will be in her department, a very kind, understanding person and doctor, she told me everything and reassured me that the case has not started. Many thanks to her now such communication is very important for me.
Larissa
26.12.2019
Good day! I would like to express my MOST THANKS to Laura Magomedovna for the fact that she is. A specialist from God, a wonderful and sensitive person, a wonderful and competent specialist. You can talk a lot and for a long time, just to everyone who reads the reviews, or doubts the decision-DON'T WORRY, you are in good hands. I wish Laura Magomedovna many years of life, to remain always as she is, because WE need hope for life! THANK!!!!!!
Elena
22.12.2019
Almost 4 years ago I had an operation with endometriosis, with cysts. It was done so that there are no problems so far. During the recent operation of the KS, it turned out that there is still no trace of endometriosis, thanks to Laura Magomedovna
Alla
11.11.2019
I'm from Kamchatka. Even here we have heard about the professionalism of this doctor! Thank you so much for the successful operation, sensitivity, understanding, availability. May God grant her health !!!