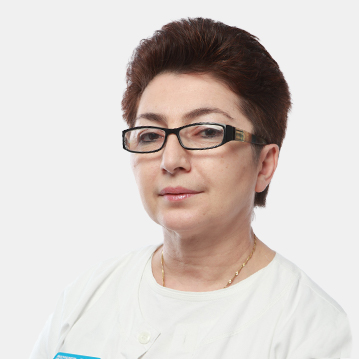 Kappusheva Laura Magomedovna
Deputy chief doctor in gynecology, obstetrician-gynecologist
Work experience:

38 years

Academic degree:

Doctor of Sciences, PhD, professor

Medical category:

Врач высшей категории

Reception at:

ул. Лобачевского, дом 42, стр.4
Make an appointment
Main information
Directions
Reviews
Education:
I MMI named after I.M. Sechenov in 1983, 1 medical faculty with a degree in "Medicine"
Clinical residency in Obstetrics and Gynecology 1983-1985 2 MOLGMI them. N.I. Pirogov
Numerous certification courses, advanced training, thematic improvement, master classes including those abroad. Topics: "Endoscopy in gynecology", "Endometriosis", "Pelvic surgery", "Mesh technologies in pelvic floor surgery", "Laparoscopy in oncogynecology", etc.
Area of professional interests:

In 2002, as part of the authors, the Prize of the Government of the Russian Federation "For the development and implementation of endoscopic methods in gynecology" was awarded.
Scientific activity:

Professor, Department of Obstetrics and Gynecology, Pediatric Faculty, Russian Scientific Research Medical University
Professional achievements and recognition:

Author of over 100 scientific publications, co-author
Member of the Russian Association of Obstetricians and Gynecologists, the Russian Association for Endometriosis, the European Society of Obstetricians and Gynecologists, the European Association of Endoscopists - Gynecologists.
Laura Magomedovna is a doctor from God with golden hands. I
want to express my deep gratitude for the excellent operation and so easy recovery. ❤️
deploy...
Carmen / 27.11.2020
I want to express my gratitude and words of gratitude to a w
onderful doctor, an amazing specialist, an incredible person with a wonderful soul! It so happened that my mother ended up in Clinic 31 to see Laura Magomedovna! She not only advised in her direction, but also helped to understand the causes of my mother's illness! She literally saved my mom's life! For which I will be grateful to her all my life! There would be more such doctors from God !!! Low bow to her !!!
deploy...
Irina / 08.10.2019
I express my immense gratitude to the unique and brilliant D
octor with a capital letter and a doctor from God-Kappusheva Laura Magomedovna! Thanks to the highest professionalism of Laura Magomedovna, my life has found meaning again! Laura Magomedovna from the very beginning questioned the terrible diagnosis of my daughter, instilling hope in us, and with God's help she was right !!! The operation took place at the highest level, histology confirmed Laura Magomedovna's opinion about the absence of pathological cells, happiness returned to our lives! I wish you, Laura Magomedovna, long years of happy life surrounded by relatives and friends, may your kind heart and genius abilities return your patients and their loved ones to life for many years to come and give happiness! Thanks you!
deploy...
AMINA A. / 29.12.2018
I want to express my deep gratitude to Laura Magomedovna and
the entire team of doctors! You are best! Thanks for your work!
deploy...
Romanova Natalia Igorevna / 29.08.2018
Laura Magomedovna has golden hands and a kind heart. She is
a doctor, as he should ideally be. A talented surgeon. She saved me and my sister from very serious diseases. I express my deep gratitude to Laura Magomedovna! Low bow for the highest professionalism, responsible attitude to work and respect for patients! Believe me, this respect is mutual! We love you very much, Laura Magomedovna !!!
deploy...
Elena / 07.04.2018
I would like to express my deep gratitude to Dr. Laura Magom
edovna Kappusheva! You are a real professional, a doctor who treats his patients with heart. Thanks to the staff of the K31-Ochirova clinic, Hajibeyov, as well as all the nurses. Kind, helpful and positive people! I wish you all good health and much, much strength. Many thanks!
deploy...
Saida / 14.11.2017
Many thanks to Dr. Laura Magomedovna Kappusheva. A doctor fr
om God with golden hands !! I recommend all women, girls, girls to contact this doctor, she will always help. Separately, I express my deep gratitude to the medical staff of the hospital - anesthesiologist Hajibeyov, doctors and nurses. All professional specialists who love their work, kind people with a good sense of humor. After contacting the clinic to +31, you will not go to another medical institution. Many thanks to all and good luck in your hard work.
deploy...
Alyona / 17.04.2017
Heartfelt gratitude and deep bow to all medical staff of the
K + 31 clinic for their attentive and kind attitude. I am especially grateful to Dr. Laura Magomedovna Kappusheva for her professionalism and sensitive attitude. Many thanks to the anesthesiologist Pliev A.S., the ward doctor Ibragimova Z.A., the medical staff of the surgical unit who performed the operation.
deploy...
Kutepova Valentina Ivanovna / 24.11.2016
Laura Magomedovna !!! Thanks !!!!! Thanks to you, I am a mot
her and my daughter is going to first grade tomorrow. You have golden hands, professionalism and responsiveness !!
deploy...
Olga Zaitseva / 07.09.2016
I thank Laura Magomedovna, she helped me become a mother. Af
ter the operation performed by her, I became pregnant after 1.5 months) before that I could not have children for about 7 years! Health and thanks to you from all my family !!! ❤️
deploy...
Elena / 31.10.2019