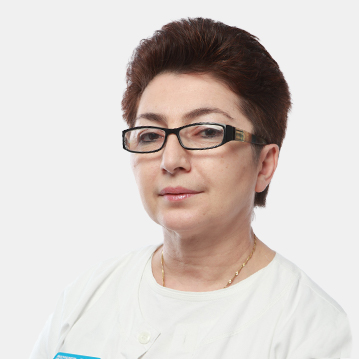 Kappusheva Laura Magomedovna
Deputy chief doctor in gynecology, obstetrician-gynecologist
Work experience:

38 years

Academic degree:

Doctor of Sciences, PhD, professor

Medical category:

Врач высшей категории

Reception at:

ул. Лобачевского, дом 42, стр.4
Make an appointment
Main information
Directions
Reviews
Education:
I MMI named after I.M. Sechenov in 1983, 1 medical faculty with a degree in "Medicine"
Clinical residency in Obstetrics and Gynecology 1983-1985 2 MOLGMI them. N.I. Pirogov
Numerous certification courses, advanced training, thematic improvement, master classes including those abroad. Topics: "Endoscopy in gynecology", "Endometriosis", "Pelvic surgery", "Mesh technologies in pelvic floor surgery", "Laparoscopy in oncogynecology", etc.
Area of professional interests:

In 2002, as part of the authors, the Prize of the Government of the Russian Federation "For the development and implementation of endoscopic methods in gynecology" was awarded.
Scientific activity:

Professor, Department of Obstetrics and Gynecology, Pediatric Faculty, Russian Scientific Research Medical University
Professional achievements and recognition:

Author of over 100 scientific publications, co-author
Member of the Russian Association of Obstetricians and Gynecologists, the Russian Association for Endometriosis, the European Society of Obstetricians and Gynecologists, the European Association of Endoscopists - Gynecologists.