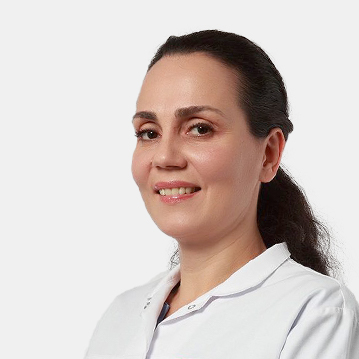 Ibragimova Zarema Almanovna
Obstetrician-gynecologist
Work experience:

26 years

Academic degree:

PhD

Medical category:

Врач высшей категории

Reception at:

ул. Лобачевского, дом 42, стр.4
Make an appointment
Main information
Directions
Reviews
Education:
1995 - I MMA named after Sechenov, specialty - medical business.
1995 - 1997 - ZPSiR, residency, specialty - obstetrics-gynecology.
2004 - 2011 - GOU VPO Russian State Medical University, postgraduate study, Department of Obstetrics and Gynecology, Pediatric Faculty.
Area of professional interests:

Clinical and economic efficiency of minimally invasive treatment methods and endometrial hyperplasia in the period of perimenopause
Author of the following personal publications:
Modern approaches to the treatment of patients with uterine bleeding in perimenopause.
The choice of treatment method for endometrial hyperplasia in the period of perimenopause.
Uterine perimenopause bleeding.
The effectiveness of various methods of ablation from the endometrium in the treatment of endometrial hyperplasia without atypia.
Hyperplastic processes in the endometrium and mammary glands during perimenopause.
Antonina
04.09.2019
Dear Zarema Almanovna - You are the best female doctor! You did your best for my speedy recovery. I am very grateful to you for that! I would also like to say that you are doing so much good that you need to be awarded a gold medal for your services. May everything you have conceived always come true! I wish you the greatest happiness!
Lysikova Anna Pavlovna
16.05.2018
I would like to express my gratitude and appreciation for the high professionalism, sincere and warm attitude to the wonderful doctor Ibragimova Zarema Almanovna. For almost a month my mother stayed in the hospital, and all this time she was surrounded by quality medical care, care and attention. She successfully underwent a complex operation. During the rehabilitation period, the doctors of the clinic did everything possible to make the recovery as fast and painless as possible. We would like to thank the whole family to Zarema Ibragimovna and Kapusheva Laura Magomedovna and wish you health and well-being. DOCTORS FROM GOD - it's about you !!!
Irina
03.01.2018
Thank you very much, Zarema Almanovna, for your efforts and knowledge, for your efforts and advice, for your kindness and understanding, for your professionalism and skill. You are a wonderful doctor and I wish you to help many more people, celebrating every day with a victory over a serious problem and receiving as a reward the smiles of loved ones and the respect of others! I would like to wish the K + 31 clinic prosperity, when such doctors work for you, you will be the best! Good luck! Sincerely, Irina.
Malida
10.03.2016
I want to join all of the above! Zarema Almanovna, a doctor from God! 8 years have passed, and I will remember her attitude towards herself and how she experienced and was in touch 24/7 for a long time! Thank you for your kindness and professionalism !!!
Ekaterina
09.02.2016
Zarema Almanovna, this is a kind, bright, sympathetic PERSON! This is a doctor from God !!! Our whole family will never forget what Zarema Almanovna did for us! Thank you from me and my children for the prompt solution of my problem !! I will be grateful to you!
Tatyana
21.05.2015
I would like to express my deep gratitude to you, Zarema Almanovna, for your sensitive attitude, understanding and warmth and, of course, professionalism. Dear women who are now reading my review, I highly recommend this doctor, because this is a doctor from God). I want to tell you a simple human THANKS
Irina
14.04.2014
Many thanks to Ibragimova Zarema Almanovna for the operation performed yesterday to my mother! Excellent hospital, helpful staff, wonderful doctors, comfortable rooms. Everything is simple at the highest level. We were very satisfied! We will recommend the clinic to friends and acquaintances!
Natalia
11.04.2014
From me and all my family (everyone was very worried about me) - many thanks to Zarema Almanovna! An amazing doctor, a wonderful person! Thanks to her and Laura Magomedovna, there was confidence in the successful solution of my little female problems! Attention and willingness to come to the rescue at any moment is so valuable when you are within the walls of a hospital (even if in a perfectly equipped ward) :) Good luck and all the best!
Rovzat
08.04.2014
I want to express my deep THANKS to the gynecologist Ibragimova Zarema Almanovna, for high professionalism, sensitivity, benevolence, dedication to her work !!! Thank you very much!!! Good luck, prosperity and all the best !!! Respectfully yours, Dubaeva Rovzat.
Agnieszka Monica
05.04.2014
Many thanks to Ibragimova Zarema Almanovna for carrying out a very difficult operation at a high professional level, special benevolence, responsiveness and kindness! As a citizen of Poland, I was pleasantly surprised by the highest standards of service in your wonderful Russian clinic, which are 100% consistent with the best European and world standards. I and my Russian husband, who was kindly admitted to my room before and after the operation, are very pleased and grateful. I wish you success in everything and all the best! Thank you so much!