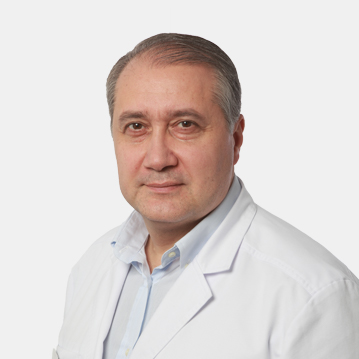 Kamalov Armais Albertovich
Chief Consultant in Urology, Urologist
Work experience:

36 years

Academic degree:

Academician, professor, Doctor of Sciences, PhD

Reception at:

ул. Лобачевского, дом 42, стр.4
Make an appointment
Main information
Directions
Reviews
Education:
1984 - 2 MOLGMI.
1998 - doctoral studies.
Scientific activity:
Since 2003 - Head of the urology course, since 2010 - Head of the Department of Urology and Andrology, Faculty of Fundamental Medicine, Moscow State University M.V. Lomonosov. Since 2010 Deputy Director of the Research Institute of Uronephrology and Human Reproductive Health, First Moscow State Medical University M.I. Sechenov.
A.A. Kamalov is the author of 250 published scientific works (228 - co-authored), including 3 monographs (co-authored), 4 textbooks, 7 books (co-authored), 4 manuals (co-authored), 5 inventions.
With consultation and under the guidance of A.A. Kamalov, 3 doctoral and 10 master's theses were defended.
Kamalov Armais Albertovich made a huge contribution to the development and practical implementation of a program to protect the health of the male population of the country, based on an interdisciplinary principle, including a system for organizing and providing medical and social assistance. At the initiative of A. Kamalov In many regions of the Russian Federation, for the first time in the country, "Men's Health" rooms and clinics have been created to provide specialized medical care to the male population of the country, with scientifically based approaches to the prevention, diagnosis and treatment of andrological diseases.
Area of professional interests:
The main directions of scientific activity A.A. Kamalova devoted to the problems of conservative and surgical treatment of urological and andrological diseases. The high-tech minimally invasive and endoscopic methods proposed by A.A. Kamalov significantly improved the results of treatment of diseases of the prostate gland, male urethra, bladder and kidneys. A.A. Kamalov introduced microsurgical reconstructive-plastic interventions using a free flap on a vascular pedicle in an experiment and in clinical practice regarding strictures, obliterations, and fistulas of the male urethra.
Professional achievements and recognition:
Professor, specialty "Urology" (2006),
Medal of the Russian Federation "For Labor" (1997),
laureate of the Prize "The best doctor of Russia" Award for creating a new direction in medicine (2006),
laureate of the Academician Lopatkin Prize for his contribution to the development of domestic urology (2007),
Corresponding Member of RAMS (2011),
chief urologist of the Moscow City Health Department (2012)
Kamalov Armais Albertovich - Vice-President of the Russian Society of Urology, President of the Public Organization "Men's Health", member of the Commission of the Expert Council of the Russian Academy of Medical Sciences on modernization and innovative development of medical science in the field of reproductive health of men and urology, Vice-President of the Russian Society for Endourology and New Technologies, Member of the European Society of Urology, the International Endourological Society, the editorial board of the journals "Urology", "Men'sHealth", Vice-President of the international movement "Doctors of the World for the Prevention of Nuclear War".