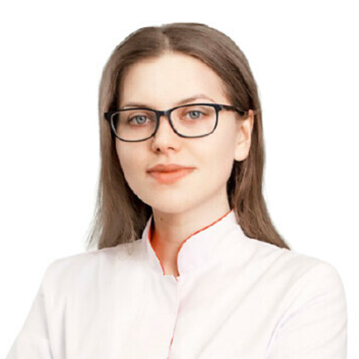 Klekuts Evgeniya Alexandrovna
Gastroenterologist
Work experience:

4 years

Medical category:

Врач высшей категории

Reception at:

ул. Лобачевского, дом 42, стр. 4
Make an appointment
Main information
Directions
Reviews
EDUCATION
2018 - Zaporozhye State Medical University, general medicine.
2020 - First Moscow State Medical University named after I.M. Sechenov.
ADVANCED TRAINING COURSES
2021 - advanced training under the program "Diagnostics and treatment of diseases of the digestive system", PFUR.
PROFESSIONAL SKILLS
GERD (including Barrett's esophagus).
Esophagitis.
Gastritis of various etiologies (including those associated with Helicobacter Pylori).
Peptic ulcer of the stomach and duodenum.
Duodenitis.
Cholecystitis.
Cholelithiasis.
Intestinal dysbiosis.
Food poisoning.
Diseases of the liver and biliary tract (drug hepatitis, non-alcoholic fatty liver disease, primary biliary cirrhosis, autoimmune hepatitis, primary sclerosing cholangitis, alcoholic liver damage, etc.).
Functional disorders of the gallbladder and sphincter apparatus, chronic cholecystitis, cholelithiasis, cholangitis), postcholecystectomy syndrome.
Non-specific inflammatory bowel disease (ulcerative colitis, Crohn's disease).
Bowel diseases of non-infectious origin (microscopic colitis, eosinophilic gastroenteritis, antibiotic-associated colitis, reactive colitis and enteritis, etc.).
Diverticular disease of the colon.
Ischemic colitis.
Treatment of irritable bowel syndrome, persistent constipation, bacterial overgrowth syndrome.
Acute and chronic pancreatitis.
Acid-dependent diseases of the upper gastrointestinal tract (peptic ulcer, acute and chronic gastroduodenitis, gastroesophageal reflux disease, Barrett's esophagus).
Diseases of the operated stomach.
Creation of individual programs for the prevention of exacerbations of chronic diseases of the digestive system.