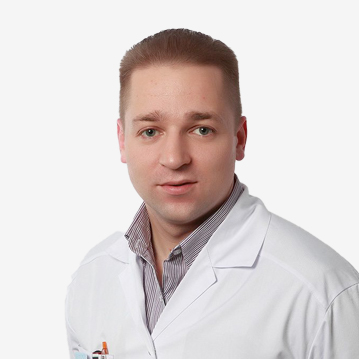 Eroshenko Ivan Pavlovich
General practitioner
Work experience:

19 years

Reception at:

ул. Лобачевского, дом 42, стр.4
Make an appointment
Main information
Directions
Reviews
Education:
2002 - Military Medical Academy, specialty - medical business.
2002-2003 - Military Medical Academy, internship, specialty - therapy.
2005-2008 - Residency in therapy on the basis of SEIU MO RF.
Courses:

2006 - GCP courses.

Participation in clinical trials, treatment of patients with hepatitis C.
Area of professional interests:
From 2005 to 2008 worked in various departments of clinical hospitals in Moscow. Mastering spirography, conducting steral, pleural punctures, liver punctures.
Participation as a listener in numerous conferences and congresses.
Nilovskaya Anna
13.12.2019
I got to the doctor not at all according to his profile, despite this, I listened carefully and did everything possible. You don't often find such a benevolent attitude, she left inspired.
Maria
11.10.2018
Wonderful doctor! Very attentive to the patient. Thank you so much!!!
Nataliya
14.06.2016
The very fact of going to a doctor is a test in itself, and nevertheless, there are attentive, delicate and caring specialists, among whom I include Ivan Pavlovich Eroshenko, a visit to whom gives the mood for recovery) Thank you!
Madina
26.01.2016
The best therapist I have met. Friendly, attentive. A good doctor's attitude towards the patient is a complementary therapy. This is about Ivan Pavlovich
Pluta
14.07.2015
Very attentive, knowledgeable and friendly doctor! More of these ...
Alexander Cheverev
09.03.2014
An excellent doctor, thoughtful and insightful specialist with a high diagnostic flair. Just a kind and good person. I advise everyone!