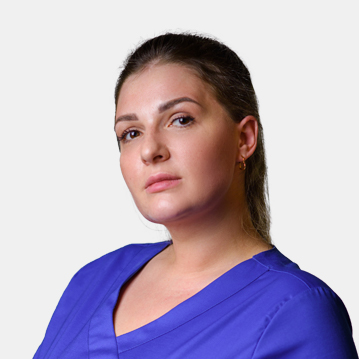 Yuzhnaya Polina Yevgen'yevna
Children's dentist
Work experience:

7 years

Reception at:

ул. Лобачевского, дом 42, стр. 4
Make an appointment
Main information
Directions
Reviews
EDUCATION
2014 - First Moscow State Medical University. I. M. Sechenov, dentistry.
2015 - Peoples' Friendship University of Russia P. Lumumba (RUDN University), therapeutic dentistry, internship.
2018 - Evdokimov Moscow State University of Medicine and Dentistry, children's dentistry, residency.
TRAINING COURSES
2016 - Novokuznetsk State Institute for Advanced Training of Doctors, Novokuznetsk - Faculty of Dentistry, therapeutic dentistry.
2017 - tabs. Crowns. Veneers - BioSan.
2017 - endodontics course. Filling with thermafil. BioSan, therapeutic dentistry.
2018 - participant of the AURUM BRAIN DENTAL SESSION.
2018 - International Center for Dental Education, lecture course "From composite to ceramics. Part 1 - Composite", Moscow.
2018 - course by Giuseppe Marchetti "Style Italiano Techniques for Making Direct and Indirect Restorations".
2018 - congress on pediatric dentistry/first international forum - Aurum, pediatric therapeutic dentistry.
2018 - the basics of pediatric surgical dentistry - AURUM, pediatric dentistry.
2018 - AURUM - AURUM, pediatric dentistry, "Crowns in pediatric dentistry", "DNP in pediatric dentistry and anesthesia".
2019 - congress for Indirect Restorations. Veneers. Amsterdam.
2019 - seminar by Antonina Getsman "Place of sedation and general anesthesia in modern pediatric dentistry".
2019 - Antonina Getsman's course on sedation and anesthesia in pediatric dentistry.
2020 - treatment of pulpitis, periodontitis of temporary and permanent teeth in children. A. Getzman.
TREATMENT
Gum abscess.
Periodontitis.
Parodontitis.
Tooth fracture.
Tooth anomaly.
Stomatitis.
Tooth pulpitis.
Dental calculus.
Adentia.
Have been at the reception more than once at this wonderful
doctor! We have never met such attention and patience, we treat teeth with pleasure and are always happy to go to an appointment.
deploy...
Tatyana / 09.04.2021