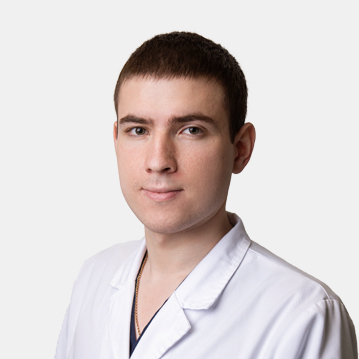 Surovikin Maxim Sergeevich
Urologist
Work experience:

3 years

Reception at:

ул. Лобачевского, дом 42, стр. 4
Make an appointment
Main information
Directions
Reviews
EDUCATION
I.M.Sechenov First Moscow State Medical University (Sechenov University) - diploma with honors.
Research Institute of Urology and Interventional Radiology. N. A. Lopatkina - branch of the National Medical Research Center of Radiology of the Ministry of Health of Russia - residency.
PROFESSIONAL SKILLS
Diagnostics and treatment of a wide range of urological diseases of the profile (infectious diseases of the genitourinary system, erectile dysfunction, ejaculation disorders, urolithiasis, benign prostatic hyperplasia, neurogenic urinary disorders, etc.).
Endoscopic manipulations (urethroscopy, cystoscopy, bladder catheterization, ureteral stenting, etc.).
Surgical treatment of urological diseases (circumcisio, varicocelectomy, hydroceletomy with plastics of the testicular membranes, etc.).
Ultrasound examination of the kidneys, bladder, prostate (including TRUS), scrotal organs.
Urodynamic studies (uroflowmetry with determination of residual urine).
PROFESSIONAL DEVELOPMENT
Member of the European Association of Urology (EAU).
Member of the Russian Society of Urology (ROU).
Member of the Russian Society of Urological Oncology (ROOU).