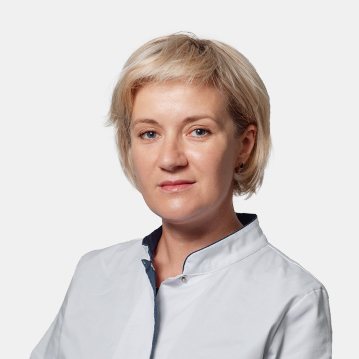 Gorshilina Nadezhda Andreevna
Physician-therapist
Work experience:

23 years

Medical category:

Высшая квалификационная категория

Reception at:

ул. Лобачевского, дом 42, стр. 4
Make an appointment
Main information
Directions
Reviews
EDUCATION
1992 - 1998 - Ivanovo State Medical Academy, medical faculty.
1998 - 1999 - Ivanovo State Medical Academy, education - clinical internship, specialty - therapist.
TRAINING COURSES
2006 - professional retraining at GOU DPO "Russian Medical Academy of Postgraduate Education of Roszdrav" under the hematology program, followed by a certification course in 2012.
2013 - professional retraining under the "Ultrasound Diagnostics" program, followed by a certification course in 2018.
2018 - professional retraining program "Geriatrics", First Moscow State Medical University named after I.M.Sechenov.
Further training under the program "Gastroenterology for therapists", "Examination of temporary disability and quality management in health care", "Fundamentals of clinical transfusiology".
WORK EXPERIENCE
GBUZ MO Odintsovskaya CRH. Position: Head of Therapeutic Department. Organization and control of the work of the department employees. Control over the maintenance of medical records by doctors, nurses. Assessment of the quality of medical care, the correctness of diagnosis, the volume of medical and diagnostic measures carried out by the doctors of the department. Selection of personnel for work in the department, their rational arrangement and distribution of responsibilities between them. Monthly analysis of doctors' performance indicators. Management of patients with therapeutic and pulmonological profiles. Consultation of patients of surgical, trauma, gynecological, cardiological departments, pregnant women and women in labor. Control of examination of temporary disability, timely registration of VC. Treatment and diagnosis according to standards and clinical guidelines. Selection and implementation of biological genetic engineering therapy for patients with idiopathic urticaria and bronchial asthma.
GBUZ MO Odintsovskaya CRH, internist physician, hematologist of the therapeutic department.
Resident physician of the therapeutic department of the Mozhaisk city hospital.
Oksana
09.05.2021
A very good and attentive doctor.