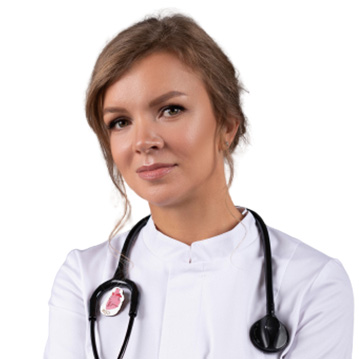 Starosvetskaya Victoria Grigoryevna
Cardiologist, functional diagnostics physician
Work experience:

13 years

Reception at:

ул. Лобачевского, дом 42, стр. 4
Make an appointment
Main information
Directions
Reviews
Instagram account: https://www.instagram.com/doctor.starosvetskaya/
EDUCATION
2008 - First Medical State University named after I.I. I.M.Sechenov.
2009 - City Clinical Hospital No. 31, internship in therapy.
2015 - Russian Cardiology Research and Production Complex of the Ministry of Health of the Russian Federation, residency in cardiology.
2017 - Russian Medical Academy of Continuing Professional Education, professional retraining in functional diagnostics.
TRAINING COURSES
2015 - Russian Medical Academy of Continuing Professional Education, advanced training in therapy.
WORK EXPERIENCE
2009 - 2013 - work as a general practitioner.
2015 - 2017 - Clinic Ear Throat Nose, cardiologist.
2017 - 2019 - Clinic Medsi on Leninsky Prospekt, general practitioner, cardiologist, functional diagnostics doctor.
December 2018 - present, K+31 clinic.
PROFESSIONAL SKILLS
Conducting and decoding an ECG.
Carrying out and decoding of daily blood pressure monitoring.
Conducting and decoding daily ECG monitoring by Holter.
Carrying out and interpretation of spirography, including functional tests.
Conducting and interpreting stress tests (VEM, Treadmill test, Stress ECHOKG).
Conducting and interpreting ultrasound densitometry.
PROFESSIONAL DEVELOPMENT
Member of the Russian Cardiological Society.
Visiting scientific conferences, cardiology congresses.
KNOWLEDGE OF FOREIGN LANGUAGES
Examination of children: no.
The doctor provides medical care in the clinic and at home.
I would like to thank a wonderful specialist in his field an
d a wonderful, sympathetic and beautiful person - Old World Victoria Grigorievna. Simple discomfort in the back when walking, made me go to the doctors at the clinic K31. Calmly and with a smile, we conducted all the necessary examinations and revealed an impending heart attack. Victoria Grigorievna was attentive to all the details, observed the condition before and after the operation, which allowed me to quickly return to an active life. Thank you, dear doctor!
deploy...
Dmitriy / 31.12.2020