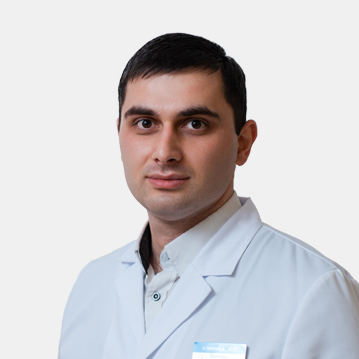 Khangoev Ruslan Osmanovich
Functional Diagnostic Doctor
Work experience:

8 years

Reception at:

ул. Лобачевского, дом 42, стр.4
Make an appointment
Main information
Directions
Reviews
Education:
"Oryol State University" Medical Institute 2007-2013, specialty medical business.
FSBI "Russian Cardiology Research and Production Complex" residency in cardiology 2013-2015
Federal State Budgetary Institution "National Medical Research Center of Cardiology" of the Ministry of Health of Russia residency in functional diagnostics 2015-2017
Further education courses:
"Peoples' Friendship University of Russia" advanced training courses in ultrasound diagnostics in 2018
Professional skills:
Research of vessels of the neck, arterial and venous systems of the extremities.
Study of morphological and functional changes in the heart and its valvular apparatus (EchoCG).
Ultrasound examination in the diagnosis of emergency surgical conditions, as well as in case of danamic observation of patients after surgery.
Professional development and achievements:

Participant of the annual conferences "Medical Diagnostics", "Issues of Emergency Cardiology", "Pulmonary Hypertension", "Hybrid Technologies in the Treatment of Cardiovascular Diseases", SAMCO All-Russian Coronary Complications Summit.