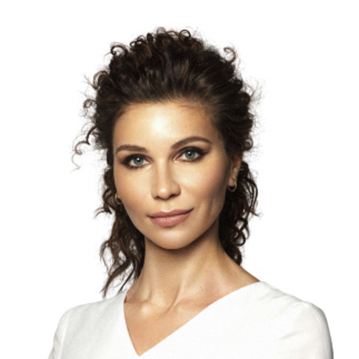 Lysenko Yulia Filippovna
Dermatologist, cosmetologist, trichologist
Work experience:

13 years

Reception at:

ул. Лобачевского, дом 42, стр.4
Make an appointment
Main information
Directions
Reviews
Education:
2002-2008 First Moscow State Medical University. THEM. Sechenova, Moscow
Faculty of Medicine, General Medicine
2008-2011 First̆ Moscow State Medical University. THEM. Sechenova, Moscow
Clinical residency. Faculty of Postgraduate Education, Department of Hospital Therapy, Therapist
2013-2015 First̆ Moscow̆ Statĕ Medical University named after THEM. Sechenova, Moscow
Clinical residency. Faculty of Postgraduate Education, Department of Skin and Sexually Transmitted Diseases, Dermatovenerologist
Further education courses:
2017 - Peoples' Friendship University of Russia, Moscow. Faculty of Continuing Education medical. employees; Department of Aesthetic Medicine under the direction of A.V. Mayorova, Professional retraining; Cosmetologist; Certificate of Mesotherapy and Ozone
2018 - Peoples' Friendship University of Russia, Moscow. Trichologist, advanced training (Trichology Tkachev V.P.)
She took advanced training courses on the correction of involutive changes in the vulvovaginal zone (augmentation of point G, labioplasty, clitoroplasty, perineoplasty), rejuvenation of the intimate zone.
Professional skills and possession of unique techniques:
Initial consultation and management of cosmetology and dermatological patients. Diagnosis and treatment of skin diseases of the scalp and hair, treatment of increased hair loss.
Knows hardware and injection techniques in aesthetic medicine:
contour plastic and volume modeling (augmentation of lips, correction of nasolabial folds, replenishment of the volume of the middle third of the face, cheekbones, wrinkles of the neck, etc.);
"Non-surgical rhinoplasty";
correction of facial wrinkles and hyperhidrosis (excessive sweating) with botulinum toxin-based preparations (Botox, dysport, Xeomin, relatox, botulax);
mesotherapy on the face, body, scalp, including non-injection and fractional methods;
introlipotherapy;
thread lifting technique, LFL threads, etc .;
vector lifting, biorevitalization and biorestructuring including laser biorevitalization;
chemical peels from simple to deep;
gas-liquid peeling;
cryotherapy (face, body);
phototherapy;
radiofrequency therapy;
myostimulation;
electrolysis;
electrolysis, including needle method;
ozone therapy;
mycotoxic therapy in the face and body;
electroporation; electrophoresis;
various face and body massage techniques, including microcurrent massage;
Ultrasound therapy, phonophoresis; cleanings (all types);
treatment of acne, acne, post-acne, rosacea;
figure correction using various techniques;
weight loss counseling;
weight loss programs;
rejuvenation programs;
drawing up individual programs for face and body care;
selection of cosmetics for home care.
He owns the author's NeTLAP technique (non-activated platelet-leukocyte autoplasma) in the treatment of non-cicatricial alopecia, acne, and correction of aesthetic imperfections in the skin of the face.
He is fluent in kinesiotherapy in cosmetology.
Dina
01.04.2021
I would like to express my deep gratitude to the doctor for bringing back my smooth and clean skin. After numerous appointments with other doctors, in other clinics, spent time and big finances, I finally found a specialist who knew what was wrong with me and how to treat. That I came to the second appointment already healthy. Thanks to both the clinic and the doctor.
Julia
11.09.2019
She underwent a course of hair treatment with the trichologist Lysenko Yulia Filippovna. Great doctor! Very disposed to himself, carefully studies the problem, can find an approach to each client. The treatment result is amazing! Hair stopped falling out, thicker and faster began to grow. thank
Ludmila
07.08.2019
While going through the check-up at the clinic, I accidentally came to Yulia Filipovna, I have never met such a wonderful doctor, professional, sincere and leading patient in Russia! Thank you very much for your support, for the best me and for my confidence in each procedure, including without anesthesia))) this is just the beginning, always together, thank you very much
Stanislav
09.04.2019
09/04/2019 was at the reception. After the consultation, the papilloma was removed in a very inconvenient place - near the priests. Did it very quickly, absolutely did not hurt + gave detailed advice on how and how to handle it. I was satisfied with everything
Inna
26.02.2019
February 18, 2019 Yulia Filippovna gave me laser photorejuvenation. This is the first time I've decided on this. For me, this procedure turned out to be completely painless, only a tingling sensation at the time of the outbreak. Already after one procedure, the result is noticeable: the stars on the cheeks disappeared, and most importantly, the age spots began to disappear. I know that the cells are still activated and the regeneration process in the dermis starts. My friends noticed the fresh look on my face. I will definitely repeat this procedure. Many thanks to the doctor, she is a professional in her field, you can trust her !!!!
Julia
24.02.2019
How difficult it is to find a `` my '' cosmetologist, but I was lucky to meet Yulia! To say that he is a master of his craft, not to say anything. Thank you for the beauty and see you again!
Elena Konik
20.02.2019
Julia Filippovna, I would like to express my gratitude to you for carrying out the laser procedure on your super new and modern apparatus (I did not remember the name). I was very afraid that there would be a red face and it would be painful, but everything went just perfect, thanks to the magical doctor and her golden hands !!!!! She listened to me carefully, explained everything in detail, reassured me. I left after the procedure happy, with a beautiful face !!! The next day, there was no swelling, redness, peeling on my face, the complexion became more even, fresh. I am thrilled with the result !!!!! Thank you very much!!!!
Tatyana
02.10.2018
Thank you very much to Yulia Filippovna for the professionally performed procedures and excellent results! I did facial cleansing and biorevitalization and was very pleased! This is a doctor you can trust. After the bio, not a bruise remained. The skin is filled and radiant. Thank you for making us more beautiful!
Julia
25.09.2018
I would like to express my deep gratitude to my doctor-cosmetologist Lysenko Yulia Fillipovna. Only when I got to her I understood, learned and was convinced from my own experience that cosmetic procedures can be really effective and, most importantly, safe! This is a doctor with golden hands, brightest brains and a big heart! Thank you very much for my beauty and youth!)
Kristina
11.09.2018
I wanted to thank the doctor for the high-quality facial cleansing. I liked everything very much. Will definitely be back!