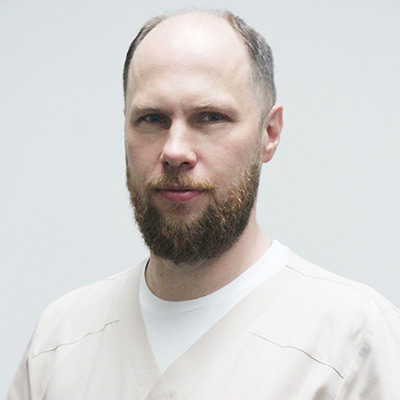 Bachurin Alexei Nikolaevich
Endoscopist
Work experience:

19 years

Medical category:

Первая врачебная категория

Reception at:

ул. Лобачевского, дом 42, стр.4
Make an appointment
Main information
Directions
Reviews
Education:
Russian State Medical University named after N.I. Pirogov, the end of 2000
Clinical residency in surgery on the basis of State Clinical Hospital 31 (Russian State Medical University named after N.I. Pirogov) 2000-2002
Experience:
From 2002 to 2013 : Dep. endoscopy of Clinical Hospital No. 31, endoscopist (diagnostic and surgical endoscopy, performing planned and emergency endoscopic and surgical interventions).
From 2013 to 2017 - Endoscopist Clinical Hospital named after S.S. Yudina (City Clinical Hospital No. 7) (diagnostic and operative endoscopy, performing planned and emergency endoscopic), 2013-2015. surgeon providing emergency surgical care.
Since 2017, the endoscopist K + 31
Professional skills:
West spectrum of dyganostic and surgical endoscopic interventions: ERCP with calculus removal and prosthetic strictures; removal of formations of the gastrointestinal tract, including submucosal dissection (EDPS); prosthetics of gastrointestinal tract strictures with self-expanding stents;
I would like to express special gratitude to my attending ph
ysician Alexei Nikolaevich. The doctor did an excellent job. I suffered for a long time with serious illnesses, and could not understand what was wrong with me. But Alexey Nikolaevich gave me an accurate diagnosis, performed an operation, for which I am very grateful. I give him my thanks. Thank you very much! More of these doctors!
deploy...
Akhmadova Alevtina Valentinovna / 10.02.2021
With all my heart I express my gratitude to Alexei Nikolaevi
ch Bachurin for his professionalism, benevolent, sensitive attitude to his patients. I wish you good health and success in all your endeavors. Best regards, grateful patient A. G. Chilingaryan.
deploy...
Chilingaryan A.G. / 10.07.2020
I was with Alexey Nikolaevich for a gastroscopy procedure, a
super professional doctor! All my fears were dispelled even before the procedure, during the time he and the nurse helped and encouraged, at the end they even praised) I did not expect that there is absolutely nothing nightmare in this study with a competent specialist! I highly recommend Alexey Nikolaevich! Thank!
deploy...
Anastasia / 25.12.2018