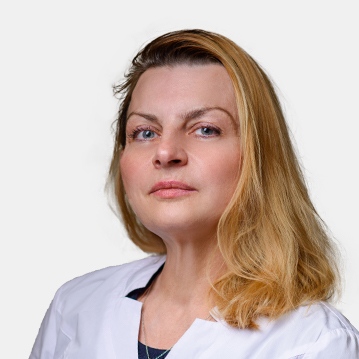 Moscovka Galina Vitalievna
Dermatologist, cosmetologist
Work experience:

24 years

Academic degree:

PhD

Medical category:

Первая категория

Reception at:

ул. Лобачевского, дом 42, стр. 4
Make an appointment
Main information
Directions
Reviews
Education:
1997 - Kursk State Medical University
1997 - Clinical Internship - Dermatovenerology
1997-1999 Clinical Residency - Dermatovenerology
1999-2001 Graduate School - Dermatovenerology. 18 printed publications on the topic of the dissertation
2005 - Primary Specialization - General Surgery
2005 - 2007 - Clinical residency in the specialty - General Surgery.
2012 - Specialization - General Surgery. RMAPO.
2012 - Primary specialization "Cosmetology" - 506 hours.
2014 - MBA First Moscow State Medical University named after I.M. Sechenova
Further education courses:
Actual issues of dermatovenereology 1999 KSMU. Kursk.
Sexually Transmitted Viral Infections 2000 RMAPO Moscow
Dermatocosmetology 2000 KSMU. Kursk.
Mesotherapy (VIP - clinic) 2001
Certified course of theory and practice: Botulinum toxin A, drug Dysport - Vallex FM Est. 2002
Certificate - Q MED esthetico - Restylane Fine lines, Restylane, Perlane 2002.
Certified intensive training course: "Correction of depressive cosmetic defects with various types of microimplants" 2002
Certified course: "Maspi line - correction with implants Н hyaluronici" 2002
Thematic improvement "Fetal organ preparations and mesotherapy in cosmetology", Institute of Regenerative Biomedicine, Moscow, 2002
Certified course: Easy Peel, Easy TCA peel, Only Touch peel, Easy Phitic peel 2003
Certified course: Photo-, IPL technology. 2003 year
Certified Course: New-Fill 2004
2004 Matridex / Matridur Certified Course
Certified Cellular Advanced Training - Medexfol 2004
OSEM certificate "The art of contouring plastic ... Correction of unsatisfactory results." Institute of Plastic Surgery and Cosmetology Moscow 2004
OSEM certificate "Mesotherapy technologies in comprehensive programs for rejuvenation, treatment of cosmetic defects and cellulite ..." Institute of Plastic Surgery and Cosmetology Moscow 2005
Actual issues of dermatovenereology 2004 TSNIKVI Moscow.
2005: Ein Anlerngang und ein Praktikum bei der Firma LINLINE GmbH (Deutschland) durchgemacht: multifunktionelles Lasersystem Multiline für ästhetische Chirurgie und Kosmetologie mit einigen austauschbaren Laserapplikatoren. YAP: Nd / Q-switched, YAG: Er, YAP: Nd / Long pulse, ALEX / Q-switched, YAP: Nd / KTP / Q-switched *. Praktische Anwendungsgebiete: Behandlung der Narben, Dermabrasie, Phlebologie - die Koagulation der Blutgefäße, Hämangiomen, Entfernen der Neubildungen, Niederintensiv- Laserbehandlung der Gesichtsfalten und Aknenarben, Laserepilation - Entfernung des dunklen und hellen Haares, Behandlung der Hyperpigmentierung, Tätowierungsbehandlung - Laserzerstörung des Tätowierungsfarbstoffes usw. Die LINLINE Methoden sind einzigartig und patentiert. Linline Laser Technology Course Nd YAG, Nd YAG / KTP, NdYAP, Ru, Alex, Er, CO2 - 2005. Moscow
"Laser therapy and methods of laser destruction in dermatology." TSNIKVI 2006
Laser surgery and laser therapy "144 hours - SSC Laser Surgery Moscow 2007.
"Medical cosmetology" 2007. GOU DPO RAPO ROSZDRAVA. Moscow.
"Dermatovenerology." 2009. FGU "SRC of Rosmedtehnologii". Moscow.
GLYTON Contour plastic REC "Expert" 2010.
Chemoexfoliants ENERPEEL. INNO-PEEL. REC "Expert" 2011.
Laser rejuvenation technology. ReStory Fraxel. 2012.
Meso-Wharton P199. "Fiji Beauty Institute" 2012.
Correction of involutional changes in the anogenital region in women and men. Vallex M. 2012.
Restylane SOFT RESTORATION. Vallex M. 2012.
Palomar Medical Technologies Congress. Alicante. Spain 2012.
Mesothreads. 2012
Plasmolifting - 2012.
Aptos Russia Berlin Prague 2012 - 2014
Autologous cell rejuvenation. REGEN LAB 2013 Moscow
Dermatovenerology - 2014 Federal State Institution Scientific Center of Dermatovenerology and Cosmetology.
Cosmetology - 2016 FSI Scientific Center of Dermatovenerology and Cosmetology.
Aptos Russia -2015. 2016. Moscow.
Deka Motus AX. 2016
Experience:
Work experience as a dermatologist-venereologist from 1997 to 2002 OKVD - outpatient and inpatient reception of patients with dermatovenereological, cosmetological profile.
Work experience as a cosmetologist:
3 years - salon in Moscow,
3 years clinic of plastic surgery and cosmetology "Korczak",
3 years - clinic of laser cosmetology and surgery "Lin Line" - dermatologist, cosmetologist, chief physician, development director.
4 years - doctor dermatovenerologist, cosmetologist, Beauty and Health Center, clinic of laser cosmetology and surgery.
1 year - chief doctor of the Center for Beauty and Health, doctor dermatocosmetologist,
From 2008 to 2012, a dermatovenerologist, a cosmetologist at a beauty institute.
From 2010 to 2015 deputy. General Director for medical part of LLC BEAUTY.
Since 2012, the doctor is a dermatovenerologist, a cosmetologist - KG "Lapino" to the present.
Professional skills and possession of unique techniques:
- Diagnosis and treatment in therapeutic dermatovenerology, cosmetology.
- Laser peels, micro peels, resurfacing of scars, combined laser treatment of keloids, tattoo removal ("Multiline", Dornje Medilaz).
- Laser treatment of skin acne, rejuvenation, hair removal.
- Laser removal of tumors, tattoos, pigment and vascular pathology.
- Contour plastic surgery of the face, hyaluronic reinforcement, correction of depressive defects with microimplants. Botox, Dysport: immobilization, correction of hyperhidrosis with drugs, chemical peels. Photorejuvenation, photoepilation, etc.
- Plasmolifting.
- Autologous cell rejuvenation.
- Mezoniti. Threads Aptos.
- Hardware cosmetology. Care Biologic Recherche, Cholley, Amenity, la Mente, etc. - Photorejuvenation. Photoepilation ("Media Star", "Qvantum", "Lumenis", "Photosilk plus" Palomar, DEKA).
- Electrotherapy, cryotherapy of papillomas, vascular changes.