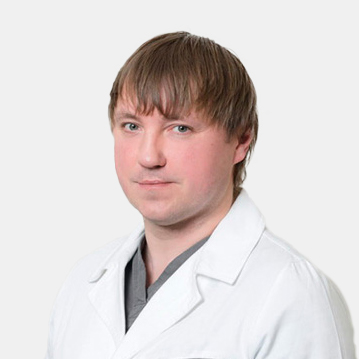 Shirokih Pavel Nikolaevich
Ultrasound and Prenatal Diagnostic Doctor
Work experience:

12 years

Reception at:

ул. Лобачевского, дом 42, стр.4
Make an appointment
Main information
Directions
Reviews
Doctor of prenatal diagnosis, obstetrician-gynecologist, doctor of ultrasound diagnostics, member of the Russian Association of Specialists in Ultrasound Diagnostics in Medicine (RASUDM) and the International Society of Ultrasound in Obstetrics and Gynecology (ISUOG - International Society of Ultrasound Diagnostics in Obstetrics and Gynecology)

Education:
1996 - 2000 - Naro-Fominsk Medical School, Nursing
2002 - 2009 - GOU VPO Russian State Medical University. N.I. Pirogov Moscow, with honors, specialty pediatrics
2009 - 2011 - City Clinical Residency at GOU VPO Moscow State Medical and Dental University on the basis of GBUZ Center for Family Planning and Reproduction DZ Moscow, Obstetrics and Gynecology
2011 - Russian University of Peoples' Friendship, Continuing Education of Medical Workers, Department of Functional Diagnostics, specialty - Ultrasound Diagnostics
2015 - Fetal Medicine Foundation, London, UK, Doctor of prenatal diagnosis
experience
2001 - 2009 - MUZ Naro-Fominsk ambulance station. Paramedic visiting team
2009 - 2011 - GBUZ Center for Family Planning and Reproduction DZ Moscow. Doctor of City Clinical Residency in Obstetrics and Gynecology
2009 - 2011 - Emergency and emergency medical care station, Moscow. Paramedic visiting team
2011 - 2014 - Doctor obstetrician-gynecologist of the obstetric-gynecological specialized visiting team
2011-2015 - GBUZ Center for Family Planning and Reproduction DZ Moscow branch №1. Ultrasound Diagnostic Doctor
2015 - 2017 - Head of the Department of Radiation and Functional Research, doctor of prenatal diagnosis
2011 - 2017 - Doctor obstetrician-gynecologist internal part-time
2014 - 2017 - Perinatal Medical Center, Moscow, "Mother and Child Group of Companies". Ultrasound Diagnostic Doctor
Professional skills:
- Ultrasound diagnostics of the expert class in obstetrics: screening studies, detection of defects and abnormalities of the fetus, placental insufficiency, impaired functional state of the fetus, multiple pregnancy and more.
- Ultrasound diagnosis of an expert class in gynecology.

Ultrasound examinations:
- organs of the abdominal cavity and cavity of the small pelvis, retroperitoneal space,
- urology (kidneys, bladder, prostate, scrotum organs),
- thyroid gland,
- mammary glands.
- birth management, operational obstetrics.
Glushkova Tatiana
04.08.2019
A wonderful doctor! Very attentive, explains everything in detail, with a great sense of humor. He has knowledge and experience that is not limited by his current specialization, which helps to see the patient as a single organism, to prevent possible risks, to accurately direct to the necessary additional examinations. Many thanks for the professional help and human participation!