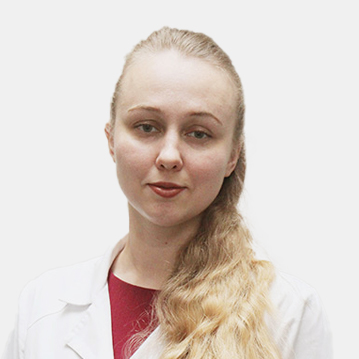 Repina Natalya Ilyinichna
General practitioner
Work experience:

8 years

Academic degree:

First category doctor

Reception at:

ул. Оршанская, д. 16, стр. 2
Make an appointment
Main information
Directions
Reviews
Education:
2011, graduated from the Russian State Medical University. Pirogov, specialty - medical business.
2011-2013, residency in the specialty - therapy, USMC Presidential Administration of the Russian Federation.
Experience:
From 2013 to 2017, she worked in KB No. 1 of the Presidential Administration of the Russian Federation.
Since 2017, he has been working at K + 31, in the Special Sector department.
Inna
11.10.2021
I am 57 years old. I underwent treatment with many doctors - two major operations, three chronic diseases. The experience is great. And in my opinion Natalia Ilyinichna Repina is a doctor and diagnostician from God. Amazing sensitivity, attention to detail, does not allow the patient to dissolve without losing his trust. A doctor who clearly chooses a specialist who is needed for this particular patient, who clearly makes decisions. And when Natalya Ilyinichna was treating my mother, my surprise knew no bounds. So quickly she found an approach to an elderly person, cured him, although we all know how difficult it is with such patients. Honor and praise to the doctor. Thank you.
Tatyana
12.08.2021
I would like to express my gratitude to the entire team of the clinic and to the therapist N.I. Repina. in August 2021 for accompanying in the process of vaccination against Covid 2019. We consulted in detail, the data for public services were transferred in a timely manner, the next day.
Kirill
17.05.2021
Many thanks to Natalia Ilyinichna for her professional approach to business, broad outlook and humanity. A very good doctor who carefully examines the problem and the test results, accurately identifies the diagnosis. Thank you very much!!!
Svetlana
17.04.2021
High professionalism, love for their work and great involvement in the patient's problem. Many thanks to Natalia Ilyinichna, she helped me a lot in solving the issue of preoperative preparation!