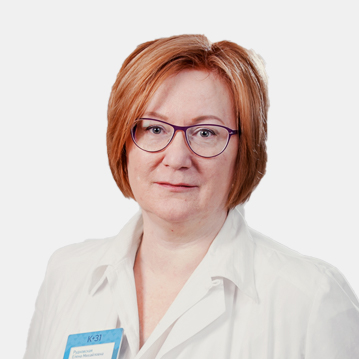 Rudkovskaya Elena Mikhailovna
Ophthalmologist
Work experience:

33 years

Reception at:

1-й Колобовский пер., дом 4
Make an appointment
Main information
Directions
Reviews
SPECIALIZATION
Ophthalmic surgery;
Optometry, spectacle and contact correction (including the selection of image color lenses);
Office and computer visual syndrome;
Inflammatory eye diseases;
Age and gerontological pathology of the organ of vision.
EDUCATION
In 1988 she graduated from the Chelyabinsk State Medical Institute, majoring in General Medicine
In 1990, she completed an internship in ophthalmology, the Ural State Academy of Continuing Education.
QUALIFICATION COURSES
Internship in the specialty "Vascular Pathology of the Eyes", 1998
Internship in the specialty "Iridology", 1996
Internship in the specialty "Contact vision correction", 1999
Internship in the specialty "Orthokeratology", 2002 and 2013
Internship in microinvasive and laser surgery for glaucoma, 2001 and 2006
She graduated from the certification cycle in the specialty "Adult Ophthalmology", 2005, 2010 and 2015.
PAVLOVA NADEZHDA MIKHAILOVNA
11.07.2016
Excellent highly qualified doctor (assessment of a neuropathologist). Everyone is polite and attentive.
VAZHERKIN VLADIMIR NIKOLAEVICH
08.06.2016
All the following doctors of the Petrovskie Vorota clinic from our family bow deeply and deeply respect for their high professionalism and humanity. Rudkovskaya Elena Mikhailovna (ophthalmologist), Bunova Svetlana Sergeevna (cardiologist, gastroenterologist, therapist), Gulyaeva Olga Borisovna (gastroenterologist, therapist), Vlasova S.S. (Ultrasound diagnostics). Thanks to the well-coordinated work of all the specialists of the clinic, a common, very pleasant, calm, working atmosphere reigns in it, full of goodwill and complicity in solving the patient's problems. Many thanks to the management of the clinic for recruiting personnel and organizing such an impeccable work.
VICTORIA
09.03.2016
I am very glad that I turned to the Petrovskie Vorota Center! The highest culture of treatment of patients and the encyclopedic knowledge of specialists: ophthalmologist Elena Mikhailovna Rutkovskaya and ultrasound doctor Maya Alexandrovna Klyp! I recommend to everyone!!!
ROMANOVA ALEXANDRA
19.01.2016
Rudkovskaya E.M. the doctor I saw was very kind. She allowed me not to go to physical education at school for one week and did not send me to school the next day due to the fact that I could not read and write because of the drops. With the help of this doctor, I began to see the world much more clearly than before.
Oksana Vypirajlo
05.01.2016
After my mother underwent cataract surgery in an ophthalmological clinic, she began to be observed at the Petrovsky Gate by an ophthalmologist, Elena Mikhailovna Rudkovskaya. The rehabilitation period was successful, my mother feels very well, and I really liked the attitude of the doctor and medical staff towards the patients. Elena Mikhailovna is a kind and sympathetic doctor who, with her professionalism, tries to alleviate the patient's suffering. Again, always smiling and with a kind word, she tries to make patients less worried. Thank you very much!