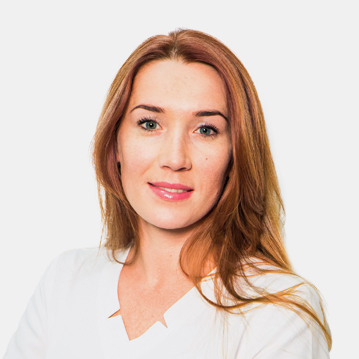 Lantuh Eugene Pavlovna
Ophthalmologist, Laser Surgeon
Work experience:

13 years

Academic degree:

PhD

Reception at:

ул. Лобачевского, дом 42, стр.4
Make an appointment
Main information
Directions
Reviews
Education:
2008 - Kyrgyz-Russian Slavic University named after B.N. Yeltsin specialty medical business, diploma with honors;
2008-2010 - residency on the basis of the Russian University of Friendship of Peoples, Faculty of Medicine, specialty ophthalmology.
2010-2013 postgraduate study at the Helmholtz Research Institute of Eye Diseases. Training :
2012 - Clinical Electrophysiology
2012 - "Contact correction and optometry"
2015 - "Inflammatory diseases of the anterior eyeball"
2015 - General Ophthalmology
2015 - Diseases of the retina and optic nerve "
Area of professional interests:

He specializes in the diagnosis of neurodegenerative pathologies such as glaucoma, cataract, age-related macular degeneration, diabetic retinopathy, retinal detachment, Alzheimer's disease, Parkinson's disease, multiple sclerosis. Interested in the functional aspects of the pathogenesis and diagnosis of neurodegenerative pathologies of the retina and optic nerve. Diagnosis and treatment of allergic and inflammatory eye diseases, refractive errors (myopia, hyperopia, astigmatism), selection of spectacle and contact correction. Methods of outpatient surgery: removal of halazion, pterygium, papillomas, inversion of the eyelids. Owns outpatient methods of laser treatment of the retina, secondary cataract. He owns modern diagnostic methods: electrophysiological studies of any degree of complexity (Modern diagnostic electroretinographic systems EP1000 (TOMEY, Japan) and RETIport / scan21 (Roland Consult, Germany), computer perimetry, optical coherence tomography, including angio-OCT, keratotopography, pachymetry , Ultrasound, etc.
Scientific activity:
Research interests - Studying the functional aspects of the pathogenesis and diagnosis of neurodegenerative pathologies of the retina and optic nerve (Multiple sclerosis, acute disseminated encephalomyelitis, glaucoma) from 2010 to the present - Department of Clinical Physiology of Vision named after S.V. Kravkova Helmholtz Scientific Research Institute of Biological Medicine. Has over 22 publications in domestic and foreign magazines. Member of the Russian Glaucoma Society and the Russian Society of Ophthalmologists since 2010; since 2015, a member of the HRT Club.
Professional achievements and recognition:
Articles in English - 1 (1 - full English version of online articles in a domestic magazine)
Articles in journals according to the list of VAK - 8
In the proceedings of international conferences - 12
9 oral presentations completed:
1) Scientific-practical conference of ophthalmologists with international participation "Filatov Readings", May 23-24, 2013, Odessa, Ukraine
2) X All-Russian Conference with International Participation "Fedorov Readings (2013)
3) 9th International Conference "Hemorheology and Microcirculation." Yaroslavl, 2013.
4) X Congress of Russian Ophthalmologists June 17-19, 2015, Moscow
5) Congress "White Nights", St. Petersburg (2015)
6) VIII ROOF-2015, September 22-24. 2015, Moscow
Maria
17.10.2019
Evgenia Pavlovna is a wonderful doctor. He will listen very carefully, he will definitely deal with any difficult situation. Thank you very much for your patience and professionalism!
Markelov Anton
11.10.2019
An excellent specialist! I see Evgenia Pavlovna like a laser surgeon. I have a high degree of myopia with a bunch of typical complications. I got to the first appointment by chance, when the OST happened - she examined me very carefully and carefully, gave a detailed conclusion, which was later fully confirmed "at Fedorov's." A knowledgeable, experienced, conscientious and pleasant doctor in communication, confidently makes the correct diagnosis, and in case of doubt, consults with other specialists of the clinic. In addition to "theory" is also an effective practice. I trust this doctor and recommend it to everyone.
Alexander Pavlovich
12.01.2019
I would like to mention the ophthalmologist E.P. Lantukh. After the operation on the eyelid, I feel great, the scar is almost invisible. Evgenia Pavlovna, thank you!
Natalia Dmitrievna Kalyuzhnaya
26.02.2018
02/22/2018 was at a reception with a high-class specialist Lantukh Evgenia Pavlovna. I really liked the doctor's approach to solving my vision problems. An attentive, competent specialist. I really hope that I have found my doctor. Evgenia Pavlovna, Thank you for the consultation and your attitude towards patients and your work. Respectfully yours, Natalya Dmitrievna Kalyuzhnaya.
Kastura Nina Grigorievna
19.12.2017
Several times we were at the reception of Evgenia Pavlovna Lantukh. We are satisfied with the process and the result of the treatment. Evgeniya Pavlovna is a competent specialist. Attentive, benevolent, clever. Were with elderly (difficult) patients. Before that we went to another clinic, there is something to compare with.