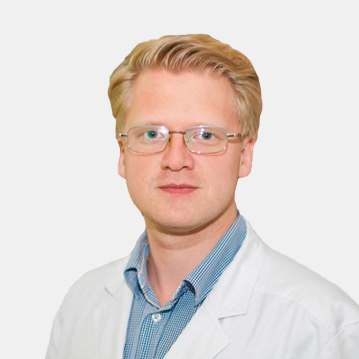 Puzakov Kirill Borisovich
Leading Consultant in Radiology, Radiologist
Work experience:

8 years

Reception at:

ул. Лобачевского, дом 42, стр. 4; 1-й Колобовский пер. дом 4
Make an appointment
Main information
Directions
Reviews
Head of the Department of Radiation Diagnostics, Proctology and Minimally Invasive Surgery Clinic at the first MGMU. Sechenova
Education:
He graduated from the medical faculty of the Moscow Medical Academy. THEM. Sechenov, specializing in medical business, after which he continued his studies in clinical residency in the specialty "Oncology" on the basis of P.A. Herzen, then underwent professional retraining in the specialty "X-ray", MRI and CT, on the basis of FMBA FSBI SSC RF Federal Medical Biophysical Center. A.I. Burnazyan.
Area of professional interests:
Visualization of the organs of the male and female pelvis, liver, organs of the biliopancreatoduodenal zone, genitourinary system, lungs and mediastinum, brain, musculoskeletal system
Morphofunctional assessment of the state of rectal tumors - the subject of a dissertation for the degree of candidate of medical sciences
Planning assessment of the effectiveness of surgical interventions on the bodies of corporate localization
FUZ ablation under the control of MRI
Densitometric studies for metabolic disorders
3-dimensional reconstructions of Dicom data from studies of the organs of the chest, abdominal cavity and retroperitoneal space.
Scientific activity:
He is a co-author of 2 patents for inventions: Method of research of the terminal part of the colon (RF No. 2453270), Method for the diagnosis of cervical tumors (RF No. 2454174), 1 Medical technology: "Magnetic resonance imaging in the diagnosis of colorectal cancer" Moscow, 2012 Has experience conducting international protocols for clinical trials of chemotherapeutic drugs (generalized cancer of the prostate, kidney, locally advanced recurrent cancer of the oropharyngeal zone), GCP certification.
Professional achievements and recognition:
Member of the European Society of Radiology European Society of Radiology (ESR), the North American Society of Radiologists Radiological Society of North America (RSNA), the Russian Association of Radiologists (RAP) since 2010, regularly makes presentations at scientific sections of the leading congresses of the Russian Federation and Europe, holds master classes according to modern MRI techniques, internships of radiologists.