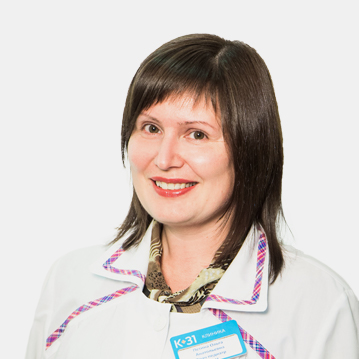 Petina Olga Anatolievna
Pediatrician
Work experience:

23 years

Academic degree:

PhD

Reception at:

ул. Лобачевского, дом 42, стр.4
Make an appointment
Main information
Directions
Reviews
Education:
Basic education: Mordovian State University named after N.P. Ogareva, Faculty of Medicine, 06/26/1998, specialty "Pediatrics".
Internship: 1998-1999 with a degree in Pediatrics.
Certification courses in the specialty "Pediatrics" - 2004, 2009 - GOU VPO Moscow Medical Academy. THEM. Sechenov; 2014 - GBOU DPO "Russian Medical Academy of Postgraduate Education" of the Ministry of Health of Russia
Professional retraining: 2013 "Health Organization and Public Health."
Further training: 2005 "Diseases of the upper respiratory tract and ear in children"; 2005 "Skin diseases in young children"; 2007 "Therapy and diagnosis of allergic and immunodependent diseases"; 2010 "Methods for the diagnosis and treatment of allergic diseases"; 2013 "Immunoprophylaxis of infectious diseases."
Scientific activity:

2010-2014 - Junior Researcher at the SSC "Institute of Immunology" of the FMBA of Russia, thesis on the topic: "Vaccine prophylaxis of pneumococcal infection in children at risk", the dissertation was defended on 05/23/2012.
Area of professional interests:

1999-2006 - district pediatrician in the Children's City Clinic No. 141 of the North-Western Administrative District of Moscow;
2007-2015 - pediatrician, head. pediatric department, deputy chief doctor for medical affairs at the City Consultative and Diagnostic Center for Specific Immunoprophylaxis of the Moscow Department of Health.
2015-2016 - pediatrician home care clinic "Be Healthy" in Moscow.
Professional Interests:
general pediatrics;
infectious diseases;
immunology, vaccinology.
Professional achievements and recognition:
Publications in scientific journals on vaccine prevention problems are about 20, written in person and in collaboration.
Member of Russian and international congresses of pediatricians, symposia and scientific and practical conferences on pressing issues of pediatrics, infectious diseases, vaccine prevention.
Member of the Union of Pediatricians of Russia.
Expert at the Vaccine Specialists portal
I am delighted with the admission! I have already visited th
ree doctors with my son, but none could clarify the diagnosis and prescribe treatment. Olga Anatolyevna at the reception showed her professionalism, an experienced doctor, prescribed treatment, there is already an obvious relief.
deploy...
I am delighted! / 30.01.2017
When we came to Olga Anatolyevna Petina, the child already h
ad a whole bunch of diseases. On the advice of friends we got to her. Olga Anatolyevna is an amazing specialist, the child was quickly cured with her.
deploy...
Sergei / 12.01.2017
The whole family got tired of being confused with vaccinatio
n, how and when to carry it out, and decided to see a specialist. Olga Anatolyevna was the first to explain everything in an accessible way, and she also described all the risks, did not insist on anything and gave me the right to make the final decision. Now we will only vaccinate her.
deploy...
Anastasia / 04.10.2016