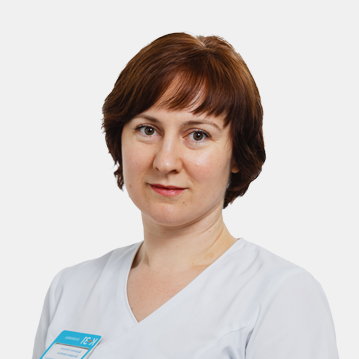 Schukina Oksana Vladislavovna
Orthopedic Traumatologist
Work experience:

23 years

Medical category:

Врач первой категории

Reception at:

ул. Лобачевского, дом 42, стр.4
Make an appointment
Main information
Directions
Reviews
Education:
1998 - graduated from the North Ossetian State Medical Academy with a degree in pediatrics
2000 Mr. RMAPO-Pediatric Surgery Residency
2008 - 1.5 month internship at Clinique Arago Paris France-orthopedic clinic
2008 Traumatology and orthopedics (general) - primary specialization
2013 internship "rehabilitation of children with diseases of the musculoskeletal system" 172 hours. Rambam Haifa Clinic, State of Israel, in the direction of the Russian-Israeli Medical Center.
2014 - training at the Department of Traumatology, RUDN University; manufacturing of orthopedic insoles using the Sursil technology.
Scientific activity:

I regularly publish articles on my topic in the journal "Attending Physician".
Member of many medical societies: doctors of the Russian Federation, etc.
Area of professional interests:

Significant results have been obtained in the treatment of pathology of the musculoskeletal system in children and adults.
Proficiency in kinesiotherapy with pathology of the musculoskeletal system.
Good results have been obtained in the treatment of vertebrogenic headaches, manifestations of vertebro-basilar insufficiency and pathology of the cervical spine in children and adults.
Treatment of hallux valgus, varus deformities of the legs and feet in children from birth, treatment of hip dysplasia.
Diagnosis and treatment of arthrosis and other joint pathology.
Treatment of flat feet, foot pathology.
Production of individual orthopedic insoles
Came with a terribly clubfoot daughter to Oksana Vladislavov
na. All attempts to independently solve the problem by running on the grass and other tricks did not help. Thanks to the doctor for fixing our legs! The daughter is already going to the model.
deploy...
Valeria / 05.04.2017
An amazing doctor who was able to cure dysplasia in a child!
The comprehensive treatment chosen by the doctor helped a lot. Oksana Vladislavovna, thank you very much!
deploy...
Margarita / 08.04.2017