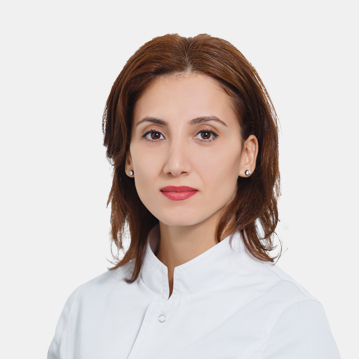 Mitoyan Ruzanna Esaievna
Plastic surgeon
Work experience:

11 years

Reception at:

ул. Лобачевского, дом 42, стр. 4
Make an appointment
Main information
Directions
Reviews
Education:
2011 - Russian State Medical University. N.I. Pirogov, specialty - medical business.
2012 - RNIMU them. N.I. Pirogov, Department of Faculty Surgery No. 1, clinical internship on the basis of Clinical Hospital No. 1 named after N.I. Pirogov majoring in surgery
2013 - The first MGMU. I.M.Sechenova, Department of Plastic Surgery FPPOV, clinical residency in the field of plastic surgery.
Programs and courses:
In 2008 she graduated from the courses of masters of medical permanent makeup
In 2012, she graduated from a scientific and practical program on methods for working with botulinum toxin type A (Botox drug).
Body contouring courses
Medical Massage Courses
Area of professional interests:
Surgery
Minimally Invasive Techniques
Plastic and reconstructive surgery
Cosmetology
Breast Reconstructive Microsurgery
Aesthetic surgery of the face and body
Scientific activity:
Work on the dissertation. Breast reconstruction with autotissues of the anterior abdominal wall. Permanent participant in Russian and Foreign forums and congresses.
Anastasia
15.12.2021
Dear Ruzanna Esaievna! Thank you very much for a beautiful and breathable nose! You treated my nose with understanding and care. Your work has exceeded all expectations! I am very happy with the result! Now I have a straight, straight and neat nose. You have corrected everything that we said! You are an excellent specialist and guru in your field! Of course, I strongly doubted and worried, but your confidence, positive attitude and approach to communication calmed me from the very first meeting and instilled confidence! I say thank you more! Special thanks to the K + 31 clinic! Great, kind staff! All are smiling and helpful! Thanks a lot!
Michael
18.02.2019
Dear Ruzanna, thank you for everything: humane approach, display of the highest qualifications and iron determination. Without your help, I would never have dared to deal with my problems. Your kindness is comparable only to your professional jewelry precision. In addition to the joy of recovery and gratitude, I have a mixed feeling: on the one hand, I don't want to get sick again, of course, but on the other hand, there was a blind desire to experience your care again, the result of which is the life of a healthy person. All the best to you! Michael
Nika
23.10.2015
I thank Ruzanna Esaievna for the help provided, for the warmth and care, you rarely meet such a warm, polite and bright person. Always sincere and friendly. If all the specialists were like that, then visiting the clinic would bring only pleasure and joy!