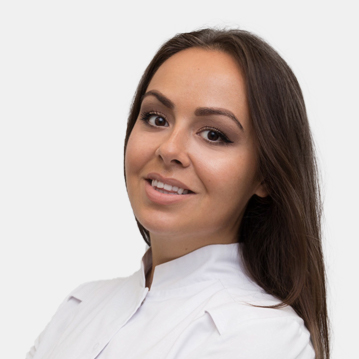 Tuychieva Camila Shavkatovna
Head of the admission department, general practitioner
Work experience:

8 years

Reception at:

ул. Лобачевского, дом 42, стр.4
Make an appointment
Main information
Directions
Reviews
Education:
RNIMU them. N, I, Pirogova (Russian National Research Medical University named after N.I. Pirogov), Specialty - General Medicine, Moscow, 2013
RNIMU them. N.I. Pirogova, Department of Hospital Therapy No. 2, Internship in "Therapy"
NRU "Higher School of Economics" - professional retraining in the specialty "Management and Economics of Health", Moscow, 2016
Clinical and research internships in European clinics (Germany, Serbia) - cycles of cardiology, cardiac surgery, interventional cardiology
Professional retraining in the specialty "Organization of Health Care and Public Health" - Moscow, 2017
NRU Higher School of Economics - Further education on the topic "Technology of Management Solutions" - Moscow, 2018
Area of professional interests:

General therapy
Cardiology
Inflammatory diseases of the gastrointestinal tract (Crohn's disease, ulcerative colitis)
Autoimmune diseases
Health Organization and Management
Innovative medical technology
Experience:


2015-2017 - head of the reception department and hospitalization department of the K + 31 Clinic on the street. Lobachevsky, inpatient physician
Scientific activity:
2013-2014 - Clinical Researcher - "Evaluation of the effectiveness and safety of JAK-Inhibitor in patients with Crohn's disease" - Russia, Germany, Belgium.
2013 - training in the business incubator of Moscow State University. MV Lomonosov "Development of drugs - from the idea to the patient."
Professional achievements and recognition:

Annual participation in the Congress of Therapists, Congress of Cardiologists, Congresses of RNMOT.
Additional Information
Fluency in English, German
Tsvetnikova Irina
22.10.2020
Many thanks to Dr. Kamila Shavkatovna for her sensitivity, high professionalism and humanity! The doctor instantly evaluates the situation, makes the right decision, and the outcome of a critical situation changes qualitatively. We wish Kamila Shavkatovna health and success in all her endeavors!
Sudareva Tatiana Pavlovna
28.10.2015
I would like to express my deep gratitude to the head of the admission department, doctor-therapist Tuychieva Kamila Shavkatovna. This is a DOCTOR with a capital letter. Her professionalism and natural talent as a doctor allowed me to correctly diagnose and prescribe the right treatment, after which I literally got on my feet.