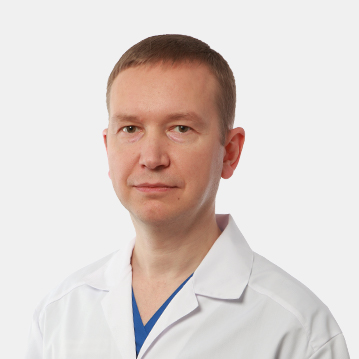 Udin Oleg Ivanovich
Deputy Chief Physician for Surgery, Surgeon
Work experience:

27 years

Academic degree:

PhD

Medical category:

Врач высшей категории

Reception at:

ул. Лобачевского, дом 42, стр. 4
Make an appointment
Main information
Directions
Reviews
Education:
1988-1994 - Russian State Medical University. Student.
1994-1996 - Clinical residency in surgery of the Russian State Medical University. Resident.
1996-1998 - Graduate School of Surgery, Russian State Medical University. Graduate student.
Scientific activity:

Conducting scientific work in the field of diseases of the esophageal-gastric transition, stomach. Several articles and reports have been published on this subject in co-authorship.
Area of professional interests:

Widespread use of minimally invasive techniques in the treatment of surgical diseases of the abdominal organs. Development and implementation of new techniques, based on the best practices of Russian and foreign surgeons.
Professional achievements and recognition:
The textbook "Surgical Diseases" edited by V. S. Saveliev, A. I. Kirienko. 2005 year. Collaboration.
Over the past 3 years, more than 20 scientific papers on surgical gastroenterology have been published.
Member of the Surgical Society of Moscow and the Moscow Region.
He was awarded the Certificate of Honor of the Government of Moscow for providing medical assistance to victims of the explosion at the Domodedovo airport. 2011 year.
Participation in conferences:
April 2005 - Diploma of the laureate of the I degree zp cycle of work "Modern approaches to the surgical treatment of gastric ulcer and duodenal ulcer and its complications." Moscow. Russian State Medical University.
September 2008 - "Prevention and treatment of exacerbations of acid-dependent diseases". Scientific and practical conference. Moscow.
November 2008 - "New developments in the treatment of pancreatic diseases." The fifth joint postgraduate course of the European Association of Gastroenterologists and Endoscopists and the Scientific Society of Gastroenterologists of Russia. Moscow.
November 2010 - "New solutions in the prevention of venous thromboembolism in orthopedic and traumatological practice". Scientific and practical conference. Moscow.
September 2011 - "Manual skills in endoscopic surgery. Advanced Course. " Educational Center of High Medical Technologies. Kazan.
October 2011 - International conference "Esophageal hernia of the diaphragm and the anterior abdominal wall. Moscow.
February 2013 - XV Russian-Japanese symposium "Diagnosis and treatment of diseases of the small and large intestine using new scientific and technological achievements in endoscopy." Moscow.
April 2021 - Clinical and anatomical conference NIIKK named after A.L. Myasnikov National Medical Research Center of Cardiology, Ministry of Health of Russia.
Professional development:
Ivanova E.V., Tikhomirova E.V., Larichev S.E., Yudin O.I., Mikhaleva L.M., Bolikhov K.V., Fedorov E.D. Ulcers of the small intestine anastomosis as a source of bleeding in patients with resection of the small intestine in the anamnesis. Experimental and Clinical Gastroenterology. 2018; (4): 30-36.
E. Ivanova, E. Tikhomirova, K. Bolikhov, O. Yudin, E. Fedorov. Anastomotic ulceration as a source of obscure GI bleeding in patients after small bowel resection. Endoscopy, 2018. 50. Georg Thieme Verlag. Germany. eP056:151.
June 2021 - "Modern endoscopic techniques in the diagnosis and endoscopic treatment of neoplasms of the jejunum and ileum". Seleznev D.E., Yudin O.I., Bachurin A.N., Fedorov E.D. VIII "Congress of Moscow Surgeons: Innovation and Practice. New reality", Moscow.
June 2021 - "Lynch Syndrome. Current state of the problem". Semenov D.A., Tsukanov A.S., Yudin O.I., Korolev S.V. VIII "Congress of Moscow Surgeons: Innovation and Practice. New reality", Moscow.
Ekaterina Verzhikovskaya
11.05.2021
I would like to sincerely thank Oleg Ivanovich, a talented surgeon, an excellent doctor and a wonderful person, who performed a planned operation to remove my gallbladder on May 7, 2021. Also, many thanks to the anesthesiologists, all the medical staff of the department for their high professionalism, sensitivity, care, humanity! Thank you so much for your work! Best regards, Verzhikovskaya Ekaterina
Julia
24.08.2020
I sincerely express my gratitude to the Deputy Chief Physician for Surgery, Oleg Ivanovich Yudin for the highest professionalism, sensitive attitude to patients, attention and kindness. Thank you for such competent, skillful and talented, caring people who work exactly where they are most needed. Special thanks to the hospital staff for their friendly and attentive attitude towards patients. I wish prosperity and well-being to you, Oleg Ivanovich, to your clinic and the specialists who work there.
Olga Olegovna
28.11.2019
Yesterday we operated on the gallbladder, there were 3 small glued stripes on the body. The doctor very quickly made the right decision to urgently operate, as the stone got stuck in the duct. And this is very dangerous and painful! Today everything is over! Many thanks to the wonderful Doctor, I also thank the entire K + 31 team, you are the best!
Anastasia
22.08.2018
Oleg Ivanovich arrived at night on his day off to help the team that operated on my mother. They saved her! The operation lasted six hours. They all have golden hands and hearts! Low bow!
Olga
12.07.2017
In April last year, Oleg Ivanovich performed an operation to remove my gallbladder. I want to express my sincere gratitude for the highest level of skill of this doctor! Women will understand me - scars do not decorate us :( So, thanks to Oleg Ivanovich, the aesthetics of the body was preserved (I saw traces from laparoscopy in others: ((() An attentive, knowledgeable surgeon! I recommended him to my friends - they were also satisfied. Thank you very much, Oleg Ivanovich !!!!!
Tatyana
17.06.2016
From the bottom of my heart, I thank the surgeon Oleg Ivanovich Yudin for the elaborate operation to remove the gallbladder. I sincerely wish you well-being in your personal life!
Lev Nodelman
29.05.2015
I went to the clinic K + 31 on the issue of laparoscopic inguinal hernia repair. I would like to express my gratitude and appreciation to the highly professional surgeon Oleg Ivanovich Yudin, the team of anesthesiologists and accompanying medical staff. At the initial consultation, Oleg Ivanovich attentively listened to all my complaints, made a clear and understandable assessment of my diagnosis, explained how the laparoscopic operation would be performed and made a necessary and sufficient program of preliminary examinations, and sent me for a consultation to an anesthesiologist. The operation was planned, the general anesthesia was performed at the highest level, and the postoperative support in the K + 31 department was excellently organized! I am very glad that I made my choice and applied to K + 31. Just 5 days after the operation, I was already able to start my favorite job. Many do not trust other people's reviews, especially those published on the Internet, and even on the website of the clinic itself. But believe me, K + 31 is really a very high-tech clinic with an experienced and professional staff! The level of assistance really meets all the highest standards! With respect to real professionals and with gratitude, Lev Nodelman