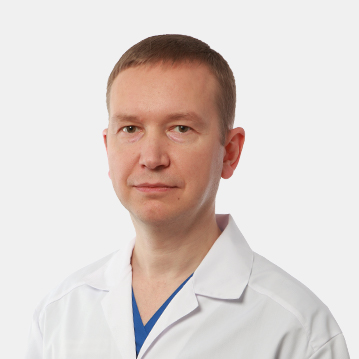 Udin Oleg Ivanovich
Deputy Chief Physician for Surgery, Surgeon
Work experience:

27 years

Academic degree:

PhD

Medical category:

Врач высшей категории

Reception at:

ул. Лобачевского, дом 42, стр.4
Make an appointment
Main information
Directions
Reviews
Education:
1988-1994 - Russian State Medical University. Student
1994-1996 - Clinical residency in surgery of the Russian State Medical University. Resident
1996-1998 - Graduate School of Surgery, Russian State Medical University. Graduate student
Scientific activity:

Conducting scientific work in the field of diseases of the esophageal-gastric transition, stomach. Several articles and reports have been published on this subject in co-authorship.
Area of professional interests:

Widespread use of minimally invasive techniques in the treatment of surgical diseases of the abdominal organs. Development and implementation of new techniques, based on the best practices of Russian and foreign surgeons.
Professional achievements and recognition:
The textbook "Surgical Diseases" edited by V. S. Saveliev, A. I. Kirienko. 2005 year. Collaboration
Over the past 3 years, more than 20 scientific papers on surgical gastroenterology have been published.
Participation in conferences:
April 2005 - Diploma of the laureate of the I degree zp cycle of work "Modern approaches to the surgical treatment of gastric ulcer and duodenal ulcer and its complications." Moscow. Russian State Medical University.
September 2008 - "Prevention and treatment of exacerbations of acid-dependent diseases". Scientific and practical conference. Moscow
November 2008 - "New developments in the treatment of pancreatic diseases." The fifth joint postgraduate course of the European Association of Gastroenterologists and Endoscopists and the Scientific Society of Gastroenterologists of Russia. Moscow.
November 2010 - "New solutions in the prevention of venous thromboembolism in orthopedic and traumatological practice". Scientific and practical conference. Moscow.
September 2011 - "Manual skills in endoscopic surgery. Advanced Course. " Educational Center of High Medical Technologies. Kazan.
October 2011 - International conference "Esophageal hernia of the diaphragm and the anterior abdominal wall. Moscow.
February 2013 - XV Russian-Japanese symposium "Diagnosis and treatment of diseases of the small and large intestine using new scientific and technological achievements in endoscopy." Moscow.
Member of the Surgical Society of Moscow and the Moscow Region.
He was awarded the Certificate of Honor of the Government of Moscow for providing medical assistance to victims of the explosion at the Domodedovo airport. 2011 year