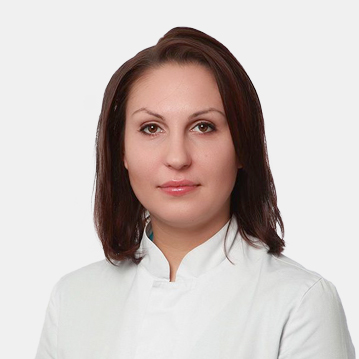 Ryabenkova Olga Vladimirovna
Head of the multidisciplinary inpatient department, cardiologist, resuscitator
Work experience:

19 years

Reception at:

ул. Лобачевского, дом 42, стр.4
Make an appointment
Main information
Directions
Reviews
Education:
2009 - Moscow Medical and Dental University. Semashko.
2011 - Residency in cardiology at the RKNPK im. Myasnikov.
2012 - Internship in the specialty of anesthesiology-resuscitation at the RSCH them. Petrovsky.
Area of professional interests:

Diagnosis and treatment of emergency conditions in therapy and cardiology, acute coronary syndrome and myocardial infarction, prophylactic cardiology, decoding of KM KG, SMAD, stress tests.
My wife and I often recall with warmth the participation and
professionalism of Olga Vladimirovna Ryabenkova, thanks to which my wife managed to get out of the crisis state in which she was admitted to the hospital at the end of December last year. We were prompted to write this letter by the news of the illness and death of Yulia Nachalova. As we understand, the clinical picture of Yulia's illness was very similar to that of my wife, she was also on the verge of sepsis and its tragic consequences. We sincerely thank Olga Vladimirovna and her colleagues, especially the guys-nurses, who did this miracle for us - overcoming the disease, which has reached almost the last line.
deploy...
Alexander Petrenko / 18.03.2019