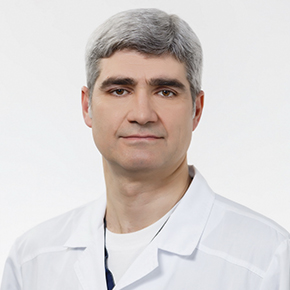 Medvedev Alexander Alexeyevich
Urologist
Work experience:

25 years

Academic degree:

PhD

Medical category:

Врач высшей категории

Reception at:

ул. Лобачевского, дом 42, стр.4
Make an appointment
Main information
Directions
Reviews
Education:
Moscow Medical Academy I.M.Sechenova, 1995, general practitioner
Clinical Residency, Moscow Department of Health, City Clinical Urological Hospital No. 47, 1997, Urology
Graduate School, Research Institute of Urology, Ministry of Health of the Russian Federation, 2000, Urology.
Professional retraining, Russian State Medical University. N.I. Pirogova, 2010, ultrasound diagnostics
Scientific activity:
Since 2012, member of ISSECAM (International Society for the Study and Exchange of Clinical Research Data and Medical Experience), member of the scientific and editorial board of the international medical Internet portal LUTforum, dedicated to functional urology.
Area of professional interests:


Examination and treatment of inpatient and outpatient urological patients. Ultrasound diagnosis of urological diseases, including TRUS and transrectal biopsy of the prostate. Implementation and assessment of uroflowmetry. Management of patients with inflammatory diseases of the genitourinary system, urooncological, andrological, urogynecological diseases. Management of patients with male infertility factor in the IVF protocol, testicular biopsy: TESA / PESA.

Passed training cycles of thematic improvement:

"Andrological aspects of reproductive health of a married couple" (First MGMU named after I.M.Sechenov, 2015)
Endourology and distance lithotripsy (RMAPO, 2012)
Ultrasound diapeuctics in urology (RMAPO, 2011)
Andrology and operational andrology (RMAPO, 2011, 2013)
Course "Publication Workshop: Clinical Trials & Pharmaceutical Products" (2009)
Clinical Research Training Course for Doctors in accordance with Good Clinical Practice (1997, 2001, 2002)
X-ray surgery (RMAPO, 1996)
Urogynecology (MGMSU named after A.I. Evdokimov, 1996)
Professional achievements and recognition:
He is the author of more than 40 articles in medical journals, collections of materials of urological congresses and conferences, the author of lectures for practicing doctors in the collection "Proceedings of the XIX Russian National Congress" Man and Medicine "(2012).
Presentation at Russian and international scientific conferences and congresses, moderator of sessions of Russian and international scientific conferences, medical web forums. Member of the Russian Society of Urology, European Association of Urology, Societe Internationale d'Urologie. Experience in conducting international clinical research as a research doctor. Prizewinner of the competition of scientific works of young scientists of the IX Russian National Congress "Man and Medicine" (2002)
Egorov Mikhail Georgievich
13.05.2021
Careful and clear understanding and study of the problem. The shortest way to solve it. Caring for the patient, ligation and assistance even after hours. Thank you.
Ryanova Elena Alexandrovna
13.05.2021
I came to the doctor after many doctors, I have been undergoing treatment for a month, my problem has practically disappeared. The first urologist who diagnosed me and started treatment. I am very grateful! I hope for a successful cure! Friends advised the clinic.
Tatyana
04.09.2020
Alexander Alekseevich is a rare, in our time, person, doctor, professional! Very attentive, sensitive, thoughtful attitude to the patient's problem! Trusting your doctor is very important! This has not happened to me for a long time, but I trust Alexander Alekseevich unconditionally! Thank you for your faith in tomorrow, for the well-being of our fathers, for your attitude towards patients! All the best and wide horizons!
Marina
29.01.2019
Medvedev Alexander Alekseevich is the specialist whom you start to trust from the first minute of your appointment. Professionalism and friendliness are the components that instill confidence that you are in good hands. I am very glad that specialists of such a high level are in this clinic. I wish you, Alexander Alekseevich, professional success in the field of protecting our health, the health of your grateful patients. THANK!!!